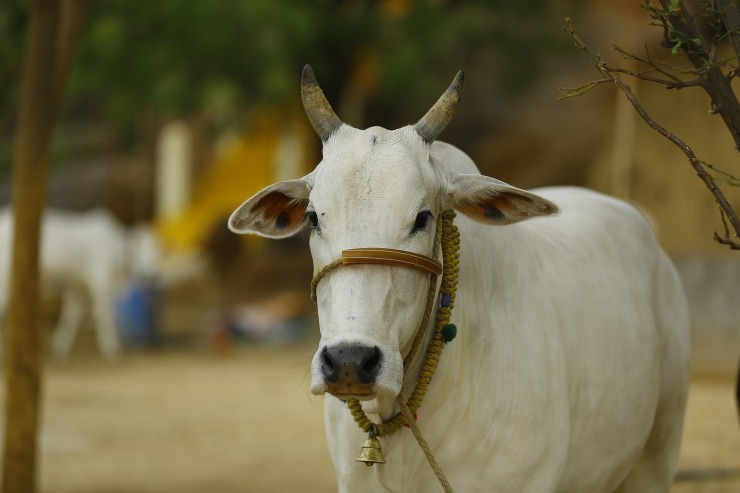 On December 6, the Rashtriya Kamdhenu Aayog (RKA) or the National Cow Commission declared that it will conduct a nationwide online cow science test to raise awareness about the sacred animal.
The hour-long Kamdhenu Gau-Vignyan Prachar-Prasar online test will have 100 multiple-choice questions and will take place in Hindi, English and 12 other regional languages on February 25.
People across the country, including foreigners, can take part in test without any fee.
According to RKA Chairman, Vallabhbhai Kathiria "Cow is full of science that needs to be explored. It plays an important role in 5 trillion economies of the country."
He explained that the purpose of the test was to spark interest, particularly among students, about the importance of cattle.
In order to help people prepare for the test, RKA published a syllabus with questions, answers, comments and explanations.
In one part of the syllabus, entitled, "What famous people said about the cow," it is claimed that "Jesus Christ said that killing a cow is like killing a human being," AsiaNews.it reported.
The quote attributed to Jesus Christ does not refer to the source it was taken from.
The quote is "half truth" and "a propaganda operation to polarise society along ethno-religious lines," said Sajan K George, president of the Global Council of Indian Christians (GCIC).
The quote used in the syllabus could prove dangerous to many, he said.
Remembering instances where cow vigilantes targeted Dalits, Tribals and Muslims, the GCIC leader said, "Anyone who eats beef could be crushed by anti-slaughter laws."
"Tribal Christians have been lynched for skinning dead cows," he recalled.
Therefore, GCIC "calls for the removal of the Jesus quote from the syllabus," which may otherwise result in further killings.
Furthermore, the syllabus claimed that cow dung was once used as fuel even in Africa. Then the Christian missionaries came and rejected this and urged them to use wood, and the continent became barren and without vegetation in a moment.
Moving on, the manual claimed that earthquakes are caused by cow slaughter and that cow offers benefits to all who thank it for milk, curd, ghee, urine and dung.
It also quoted the 1984 incident where more than 20,000 people died from a gas leak in Bhopal. "People who lived in houses whose walls were lined with cow dung were not affected by the gas," it read.
One segment said Indian cow milk "contains gold," while foreign cows "show no emotion."
In majority of Indian states, law forbids the sale or transport of cows, cow slaughter and beef trade. Vigilante groups involved in defending cows are often found taking the law into their hands. As per published reports, more than 44 people have died since 2015 as a result of vigilante attacks, which included tribal Christians and socially poor Dalit Hindus.