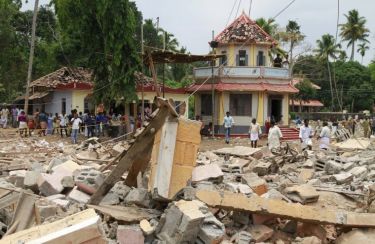 More than 100 people lost their lives and over 400 people got injured in a explosion caused by fire during Hindu annual festival celebrations at the 500-year old Devi Temple at Puttingal, Kollam in Kerala.
A massive fire broke out Sunday around 3:30am at the temple which is located around 70km from the state capital, where a fireworks show is part of the festival. The toll has reached 109, and it is likely to go up as at least two dozen victims are critically injured.
According to sources, the temple authorities went ahead with the fireworks show despite not getting the permission by the district administration on public safety grounds.
"There seems to be a gross violation of explosives norms", Chief Controller of Explosives, Sudarshan Kamal, in charge of monitoring use, storage and licensing of explosives, told reporters after visiting the accident site.
Thousands of devotees packed the temple complex when the fireworks started around midnight and went on for hours.
Eye witness said one of the fire crackers fell onto a shed where the fireworks were stored triggering unstoppable fireworks.
Prime Minister Narendra Modi headed immediately to the site with a team of doctors to give helping hands to the state government.
PM Modi expressed sadness over the incident, "The fire at the temple in Kollam is heart-rending and shocking beyond words," he said in a Twitter post. "My thoughts are with families of the deceased and prayers with the injured," he said.
Kerala Chief Minister Oomen Chandy confirmed that 109 were dead in the fire and nearly 400 got injured, many of them are in critical conditions.
The central government has ordered the military to help the state authorities with two navy ships sailing to Kollam with medical supplies.
Kerala police has registered a case against the temple authorities for negligence.
The Devi temple at Puttingal in Kollam is one of the oldest temple in the state.