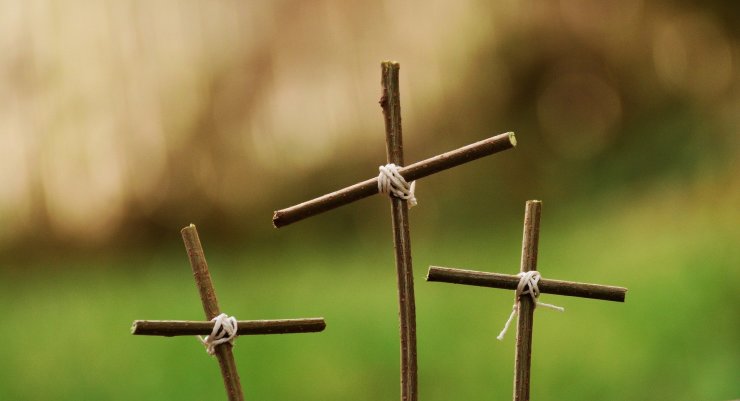 The chief minister and governor of Telangana send out a Good Friday message to believers in the state, urging them to observe the holy day by following COVID-19 protocols.
Christians all over the world will celebrate Good Friday on April 2 in commemoration of Jesus Christ's crucifixion and death at Calvary.
According to United News of India (UNI), Telangana Chief minister K. Chandrashekar Rao recalled the teachings of Jesus Christ and his commitment toward humanity and said, "The Christ's teaching of peace, patience, and love even the enemy, should be a way forward for the entire humanity."
Dr. Tamilisai Soundararajan, the state governor, also expressed her Good Friday greetings, emphasizing the love of Jesus Christ, who made the supreme sacrifice for the benefit of all human beings.
Since the coronavirus has resurfaced in the country, with number of new cases growing by the day, both the CM and the governor have asked Christians to observe Good Friday safely by adhering to COVID-19 guidelines.
"I appeal to all of you to safely observe the Good Friday by adhering to all the preventive norms to contain the spread of prevailing second wave of COVID-19," Dr. Soundararajan said.
Meanwhile Christians across the state are disappointed that they would be unable to attend church on Good Friday and Easter, the day Christ resurrected from the dead.
Due to COVID-19 restrictions, gatherings at places of worship or public festival activities are strictly prohibited until April 30.
Many Christians are dissatisfied with the decision and have asked the state government, "Why can't they allow the churches [to] have congregations during this holy times" while commercial malls, pubs, bars and cinema halls are permitted to operate as usual with no restrictions in place, Deccan Chronicle reported.
"Last year's Good Friday and Easter were not celebrated because of the lockdown," said Peter Jadalula, a senior manager at a private company. "Now, all the commercial establishments are allowed to function normally. Why can't the government allow the festival with minimum presence?"
"It's very saddening as Maundy Thursday and good Friday are important for Christians. The government should have allowed churches to function normally at least on these days," said Kusumalatha, a member of John Wesley church, Goutham Nagar Malkajgiri.
"The congregation is disappointed by the decision taken by the state government. We have been fasting and praying during the 40-day Lent. On Good Friday, special prayers take place. The government should reconsider its decision, as churches have been following all the safety protocols so far," said Sister Joy Cherian of the United Fellowship Church.
According to Robert Surya Prakash, general secretary for United Christmas celebration committee, a few Christian representatives have approached the chief secretary of Telangana "to reconsider the government decision and allow the Good Friday service."
"We also explained to the CS how churches have been scrupulously following all the Covid-19 precautions ever since the lockdown was eased," he said.