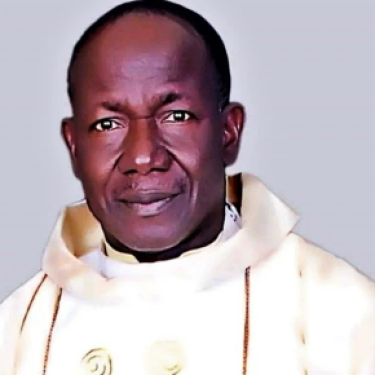 ABUJA, Nigeria — A Roman Catholic priest in northwest Nigeria was burned to death before dawn today when assailants set his parish living quarters ablaze and wounded an assistant priest, sources said.
Police said the assailants tried to enter the home of the Rev. Fr. Isaac Achi, on the premises of the St. Peter and Paul Catholic Church in Kafin-Koro, Paikoro County, Niger state, and set it on fire before fleeing when security forces arrived.
"The bandits reportedly attempted to gain entrance into the residence, but it seemed difficult, and they decided to set the house ablaze while the said Rev. Father was burned to death," Niger State Command spokesman Wasiu Abiodun said in a press statement. "A police tactical team attached to Kafin-Koro Division were immediately drafted to the area, but unfortunately the bandits had completed their evil acts and escaped before their arrival."
An assistant priest, the Rev. Collins Omeh, was shot in the shoulder during the attack and rushed to a hospital for treatment, Abiodun said.
Area resident David Ndukwe said in a text message to Morning Star News that Achi was dean of the Kafin-Koro Deanery of the Minna Diocese and chairman of the Paikoro County Christian Association of Nigeria (CAN).
"His assistant, the Rev. Fr. Collins Omeh, was shot by the bandits and wounded, while the rectory, the church's residence, was burned down."
Area resident Israel Bitrus grieved the attack.
"It's a black Sunday for the Catholic Diocese of Minna," Bitrus said in a text message to Morning Star News.
Nigeria led the world in Christians killed for their faith in 2021 (Oct. 1, 2020, to Sept. 30, 2021) at 4,650, up from 3,530 the previous year, according to Open Doors' 2022 World Watch List report. The number of kidnapped Christians was also highest in Nigeria, at more than 2,500, up from 990 the previous year, according to the WWL report.
Nigeria trailed only China in the number of churches attacked, with 470 cases, according to the report.
In the 2022 World Watch List of the countries where it is most difficult to be a Christian, Nigeria jumped to seventh place, its highest ranking ever, from No. 9 the previous year.