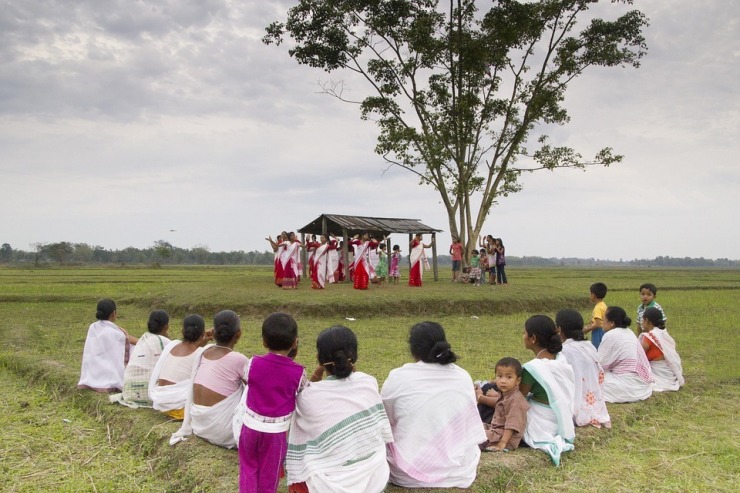 At a public gathering held on December 3, the leader of the Bajrang Dal party in Assam warned fellow Hindus not to visit churches on Christmas.
During a working committee meeting in Silchar, Bajrang Dal's Cachar district general secretary, Mithun Nath allegedly said, "If Hindus go and visit churches on Christmas day, they will be taught a lesson. They are locking temples in Shillong and we are celebrating with them. This can't be allowed."
He was referring to the alleged closure of the Vivekananda Centre by the Khasi Student's Union (KSU) in Shillong in November.
"The Christians will lock our temples' gates, and we will go to have fun in their churches. I condemn such Hindus," he said.
"No Hindus will be allowed to visit churches. If anyone does, Bajrang Dal will give its reply," Nath reportedly said.
His statement attracted powerful criticism from Christian leaders.
Retired Salesian Archbishop Thomas Menamparampil of Guwahati was surprised by Nath's declaration. "Such threats will destroy our time-tested liberalism, fraternity, and secularism," he said.
Every year, hundreds of Hindus and people from other religions in Assam and other northeastern states visit churches on Christmas. As part of celebrations, they participate in midnight masses and nativity scenes set up by parishes.
"Our culture is tolerance towards other religions and to mingle with each other at religious festivities irrespective of what religion one follows," Archbishop Menamparampil told UCA News.
The Assam Christian Forum spokesman, Allen Brooks, said that the government and society should respond to such "Hindu fatwa against Hindus."
"Now, a Hindu has threatened other Hindus. It is for the Hindu community to decide if they have authorized him [Nath] to decide what they should do on Christmas Day," he said.
Following the threat, Brooks is concerned if the nationalists will cause a disruption in churches during liturgy and other celebrations.
Meanwhile, Nath clarified his threat to Hindus visiting churches on Christmas.
"We will not beat them but will definitely stop them. There are ways to restrict. We might talk to them or start awareness initiatives," he told The Print in a telephone conversation.
The 39-year-old went on to say, "I am not against Christians or celebrating Christmas. I just told people of my religion to have some self-respect. How does my statement become a national issue?"
According to media reports, Assam police are investigating the provocative speech made by Nath.
"I don't fear my arrest. My conscience is clear. We, the Hindus, have never broken a mosque or church to construct a temple. We enjoy every festival — be it Eid or Christmas," Nath said.
"Since the past three months, our Hindu brothers and non-tribals from Assam are being tortured by goons in Meghalaya. Shops are closed, they have shut down our temples. I have all evidence. Here in Cachar, the Mizos took away land belonging to Assam. Are we born to tolerate all this?
"We should boycott the celebrations (Christmas). Some people just want entertainment. In Silchar, almost 200 Hindus will visit the Church on Christmas against 10 odd Christians," he added.