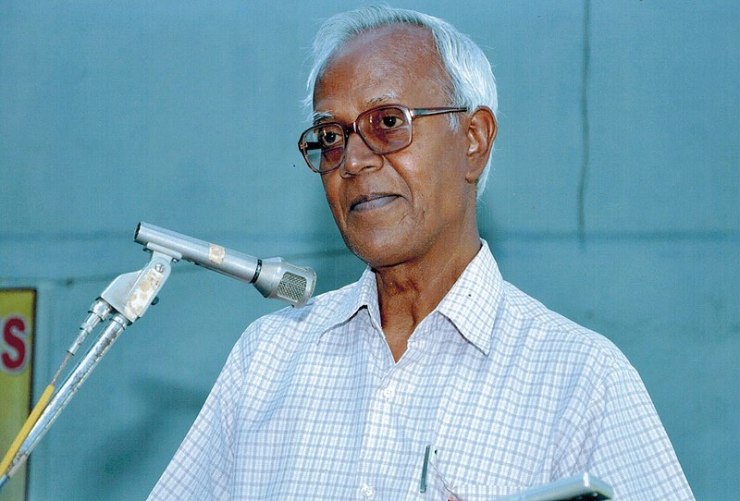 Father Stan Swamy, a 84-year-old Jesuit priest who had been detained for nine months under an anti-terror law and denied bail despite his declining health, died about 1.30 p.m. on July 5 in Mumbai's Holy Family Hospital.
He was a human rights activist who fought hard for the rights of the tribal community in Jharkhand for over five decades.
After being charged under the Unlawful Activities Prevention Act (UAPA), Father Swamy was arrested at his home in Ranchi and had been held in judicial custody since October 2020.
He had severe Parkinson's disease, which made his situation in prison worse. According to NDTV, the priest spent his final months in jail battling court fights for even the tiniest amenities like straw and a sipper.
Despite his weak medical circumstances, his repeated requests for medical care and temporary release were repeatedly denied since charges under the UAPA are considered non-bailable.
Because of his health, the Bombay High Court granted Father Swamy a 14-day inpatient period on May 28. The court also prolonged his inpatient term since his health did not improve.
In light of the priest's worsening condition, a court hearing was set for July 6 to obtain an emergency bail for him. On July 3, however, his condition rapidly deteriorated, and he was moved to the critical care unit and placed on a ventilator. But he died of cardiac arrest on July 5 in the afternoon.
He is now with "the author of life [. . .] who gave him a mission to work among the Adivasis, Dalits and other marginalized communities so that the poor may have life [. . .] to the full, with dignity and honour," read a statement issued by Father Stanislaus D'Souza, the Jesuit provincial of India.
According to The Guardian, the death of Father Swamy, the nation's oldest political prisoner, has sparked outrage among activists, politicians, lawyers and authors.
Indian economist and politician Jairam Ramesh of the Indian National Congress tweeted, "Who in the apparatus of the Indian state will be held responsible for this tragedy? Make no mistake — it is the Indian state that killed Fr. Stan Swamy, who was such a passionate crusader for social justice."
Author Sonia Faleiro tweeted, "Father Stan Swamy didn't die, he was killed. The regime killed him, he would be alive if it wasn't for them."
European Union Special Representative for Human Rights Eamon Gilmore tweeted, "India: I am very saddened to hear that Fr #StanSwamy has passed away. A defender of indigenous peoples' rights. He was held in detention for the past 9 months. The EU had been raising his case repeatedly with authorities."
Father Swamy was one of 16 activists who were part of an investigation into a fatal outbreak of caste-based violence in Maharashtra in 2018. They were accused of destabilising the federal government by collaborating with banned Maoist guerrillas. According to The Gaurdian, Father Swamy was suspected of organising the violence, having ties to dangerous Maoist organisations and trying to assassinate Modi.
A U.S. digital specialist recently learned that a hacker had hidden 22 files on one of the accused's computers, which was used an evidence by the police to arrest the priest.
When he was alive, Father Swamy, had rejected the claims, alleging that some papers were planted in his computers in order to bring false charges against him.
Despite doubts about the evidence and the priest's deteriorating health, Father Swamy's bail petitions were denied by the National Investigation Agency (NIA), the government agency investigating him. He was only transferred to the hospital after testing positive for COVID-19.
On May 22, however, he refused to travel to a public hospital and instead requested to be freed so that he could die among his people in Ranchi.
"During these eight months there has been a slow but steady regression of every function of my body," he said. "Taloja prison has brought me to a condition where I am unable to write or walk alone."
"I am asking you to consider why and how this deterioration of my health has occurred.  [. . .] I don't think it would make any difference. Whatever happens I want to be able to be with my people," said late-Father Swamy.
Author Meena Kandasamy tweeted, "Let us not talk about this as mere death. This is a judicial murder--and everyone is complicit."
"With Stan Swamy's tragic death, it's time for Indians to demand justice for the Bhima Koregaon 15," she said.
Activist Harsh Mander tweeted, "Fr Stan has died. Devoted to selfless defence of Adivasi rights. Gentle, brave, even from prison he grieved not for himself but injustice to poor prisoners. A cruel state jailed him to silence his voice, the judiciary did nothing to secure his freedom. A tragedy for the nation."