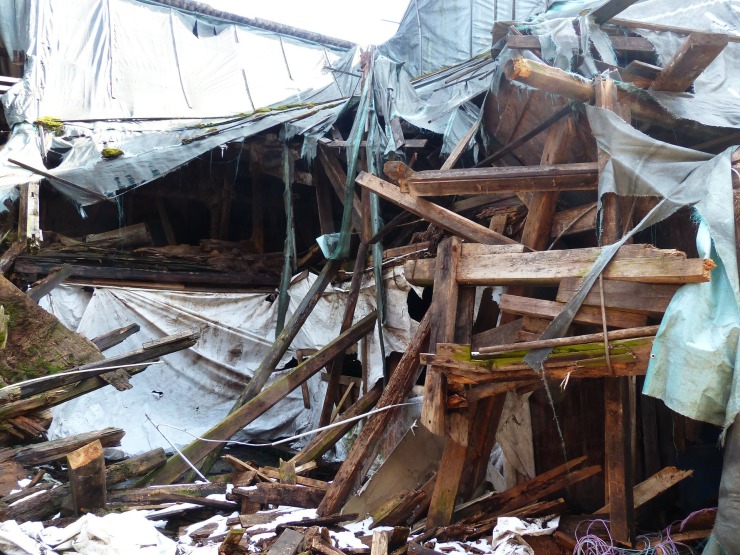 Twenty-five people were killed and 15 others were injured in a roof collapse on January 3 at a crematorium in the town of Muradnagar in Ghaziabad district, Uttar Pradesh.
More than 100 people, mostly friends and relatives of deceased Ram Dhan, had gathered to perform Dhan's funeral. When the final prayer was recited by all the people along with the priest, the land on one side of the crematorium subsided due to rain and caused the wall to fall on people taking refuge from the rain.
The local police and fire department came to the scene and dragged more than 40 people out of the debris. Rescue workers kept searching and found many others stuck under the rubble and buried in terror.
According to media reports, the cremation ground was constructed in the area prone to waterlogging and that heavy rain over the past few days may have caused the incident.
President Ram Nath Kovind and Prime Minister Narendra Modi shared their sympathy over the loss of lives in the incident.
"My condolences to the families of the deceased. I pray that those hurt in this accident get well soon. Local administration is working for relief & assistance," Kovind tweeted.
"The sad news of the unfortunate accident in Muradnagar, Uttar Pradesh, has caused great sorrow. The state government is engaged in relief and rescue work. I express my condolences to the relatives of those who lost their lives in this accident as well as wish the injured to get well soon," Modi tweeted.
Uttar Pradesh Chief Minister Yogi Adityanath ordered officials to offer 200,000 rupees to the families of each of the deceased as financial assistance.
Father John Felix, head of Mother Mary Malankara Church in Ghaziabad, told UCA News that "Very unfortunate things happen due to the carelessness of some people. Whatever may be the reason, we have lost the lives of many innocent people, which is very heartbreaking."
"The state's chief minister, Yogi Adityanath, and his administration have taken quick action and even the compensation has been announced, but sadly the wound of losing dear and near ones remains," Father Felix shared.
"Let the government come up with the fast and accurate information about the people who are responsible for this tragic event. Our condolences are with the bereaved families," he added.