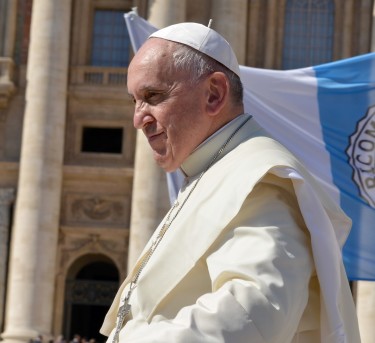 Pope Francis wrote to the president of the Catholic Bishops' Conference of India (CBCI) on May 6 to express his sincere sympathy and spiritual closeness to all Indians facing the coronavirus pandemic.
"At this time when so many in India are suffering as a result of the present health emergency, I am writing to convey my heartfelt solidarity and spiritual closeness to all the Indian people, together with the assurance of my prayers that God will grant healing and consolation to everyone affected by this grave pandemic," the Pope wrote.
"My thoughts go above all to the sick and their families, to those who care for them, and in particular to those who are mourning the loss of their loved ones."
"I think too of the many doctors, nurses, hospital workers, ambulance drivers, and those working tirelessly to respond to the immediate needs of their brothers and sisters. With deep appreciation, I invoke upon all of them God's gifts of perseverance, strength, and peace," he continued.
The Pope also thanked the Catholic community for their charitable work and fraternal solidarity.
"These days of immense grief, may we all be consoled in the hope born of Easter and our unshakable faith in Christ's promise of resurrection and new life. To all I send my blessing," the Pope concluded.
India's new single-day COVID-19 cases surpassed 400,000 for the second time in a week on May 5. The country reported 412,262 new cases and 3,980 deaths in the last 24 hours, bringing the total number of cases to 21,485,285 and total number of deaths to 234,071.