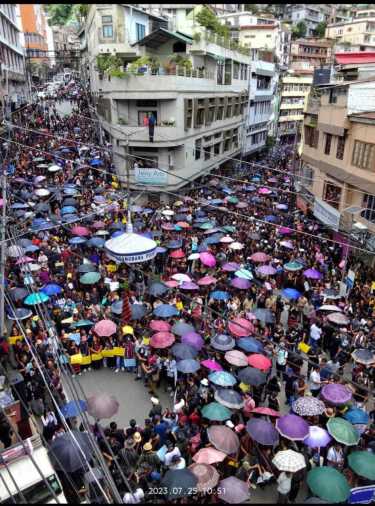 After a 48-hour bandh early last week in Imphal valley against the arrest of five Meitei youth for possessing firearms, an Imphal court recently granted bail to the five.
The court's decision on September 22, came after there was a week-long severe retaliation from the Meira Paibi - community led by women, and at least five local clubs demanding their release.
In retaliation to their arrest, the Meira Paibi and the five local clubs called for a 48-hour bandh, thus disrupting normal life for the locals.
Demanding the release of the five arrested, mobs stormed the Andro and Porompat police station in Imphal East, Singjamei, Kwakeithel and Mayang Imphal police outpost in Imphal West district.
The mobs battled the security forces to attack the police stations and during the clashes, 15 people were injured on September 21.
Though the protestors claimed the five arrested as their village defense volunteers and demanded their release, the police however stated that one of them was "a trained member of a banned militant outfit of the state" whereas the other one according to them was "a drug addict running a rehabilitation centre."
These arrested youths were in possession of military grade weapons and were wearing camouflage dress.
They were caught after a police vehicle they were travelling in was checked and they were detected. They were found wearing "camouflage dress" and "in possession of an INSAS rifle, an SLR Rifle, two .303 rifles and multiple magazines and live rounds," police said.
Arrested from Konga, Imphal East on September 16, they were booked under the Indian Penal Code (IPC) for "conspiracy to commit offences against the state" (Section 121 A), "punishment for a terrorist act" (Section 16 of the UAPA), and "using an official uniform to deceive" (Section 6(1)(a) of the Official Secrets Act).
The statement by the police then read: "These five arrested persons were produced before Judicial Magistrate, and they have been remanded into further police custody. Strict legal action is being taken against these anti-social elements. Manipur Police is determined to carry on such raids/ operations and make all out efforts to bring peace and normalcy in the State."
Despite claims of the police of taking stringent action against them, the five were granted bail by the court.
"The Special Judge (NIA) in Imphal East determined that neither IPC Section 121 A nor Section 16 of the UAPA can be invoked in this instance, as the individuals were apprehended prior to engaging in any such activities," reported Indian Express.
However, the Indigenous Tribal Leaders' Forum (ITLF) in a Press Statement released on September 23, has expressed deep concern over the court's decision.
Ginza Vualzong, the spokesperson of the ITLF stated that, "granting of bail to the five Meitei men will only encourage the misuse of uniforms by radicals in the community, who may feel that even if they are caught, the law will not go down hard on them."