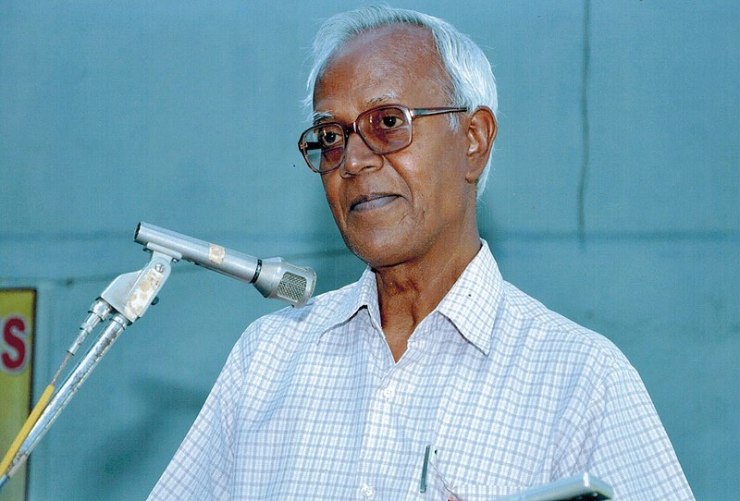 Human rights defenders in New Delhi released a book in memory of Father Stan Swamy, an 84-year-old Jesuit priest and human rights activist who died under detention in early July.
Father Swamy's life and accomplishments are documented in the book Fr. Stan Swamy: A Maoist or a Martyr? It was authored by Jesuit Father Prakash Louis and published jointly by Media House of New Delhi and Sahithya Pravarthaka Co-operative Society of Kerala on September 10.
The launch event drew more than 50 individuals including activists, academics, journalists, lawyers, politicians and members of civil society.
"I dedicate this book to the tribal people who were the real motivators of Father Swamy, since it is their lives and struggles which inspired him to commit himself to their emancipation," said Father Louis.
"I also dedicate this book to all tribal people, social, human rights, political and cultural activists and others like Father Stan who accompany the tribal people, Dalits, minorities and citizens of the most backward caste and class of this country for their rights and dignity."
The book's purpose, according to Father Louis, is to present facts and statistics, dates and data, arguments and counter-arguments in order to demonstrate that Father Swamy was a law-abiding, truth-speaking and peace-loving citizen.
Father Swamy was detained at his residence in Ranchi after being accused under the Unlawful Activities Prevention Act (UAPA). He was kept in judicial custody since October 2020. Despite his deteriorating condition, he was held for nine months under an anti-terror statute and denied bail. On 5 July 2021, about 1.30 p.m., he died in Mumbai's Holy Family Hospital.
He was a human rights activist who fought hard for the rights of the tribal community in Jharkhand for over five decades.