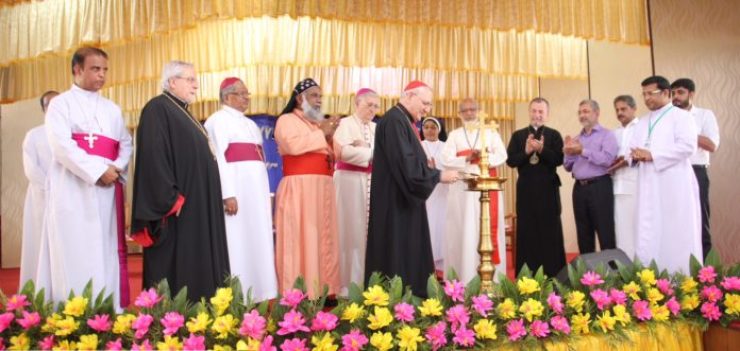 The silver jubilee celebration of the elevation of Syro-Malabar Church as a Major Archi Episcopal Church was held at Mount St Thomas at Kakkanad.
The event, inaugurated last week by the patriarch of the Chaldean Catholic Church Louis Raphaël Sako, was attended by senior representatives of various church denominations from around the world. Apostolic Nuncio to India Archbishop Giambattista Diquattro presided over the event.
Catholic leaders commended the way the Syro-Malabar Church was shining its affluent tradition in keeping with the contemporary requirements.
While concluding the event, a documentary on the history of the Syro Malabar Church was screened.
Cardinal George Alencherry, Major Archbishop of the Syro Malabar Church; Cardinal Baselios Cleemis, Major Archbishop of the Syro Malankara Church; Archbishop Cyril Vasil, secretary of the Congregation for the Oriental churches, Archbishop Francis Kallarackal, Archbishop emeritus of Verapoly; Supreme Court judge Justice Kurian Joseph; and Dimitrios Salachas, Exarch emeritus of the Greek Catholic Church attended the concluding event.
Syro-Malabar Church was granted the status of Major Archi Episcopal Church by Pope John Paul II on Dec. 16, 1992. The Church has 34 dioceses across the world, majorly in India, Exarchate in Canada and Apostolic Visitations to New Zealand and Europe.