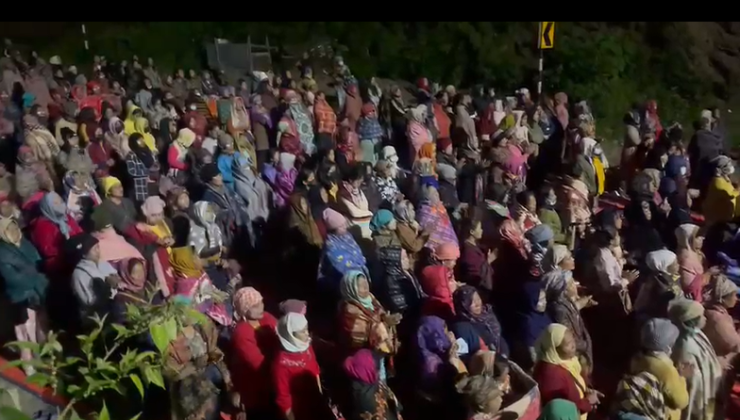 In Manipur's Bishnupur and Churachandpur districts, a relentless gun battle between Kukis and Meiteis over the past 72 hours has resulted in at least eight fatalities and 18 injuries, including two security personnel, according to media reports.
The violence began on August 29 when a village volunteer, aged approximately 30, was killed in heavy firing in the Khoirentak area. Another individual died on the same day due to a country-made gun misfiring and striking him in the face near Narainsena village in Bishnupur.
Authorities report that the fresh round of firing between the two groups resumed on Thursday morning after a brief lull since Wednesday evening. One person who sustained bomb splinter injuries on his head during Wednesday's violence died en route to Guwahati via Mizoram. Another injured individual with splinter injuries succumbed to his wounds around 9 am on Thursday at Churachandpur district hospital, where he was receiving treatment.
Additionally, officials have stated that four more individuals died due to bullet wounds in the last 48 hours, although specific details are awaited.
Out of the five individuals who sustained splinter injuries in the Chingphei area on Wednesday evening, three were transported to Churachandpur district hospital. These victims suffered injuries to their head, shoulders, legs, and back.
Meanwhile, the Indigenous Tribal Leaders' Forum (ITLF) has called for an immediate emergency shutdown in Churachandpur. Essential services, including water and medical supply, are exempt from the shutdown, stated media reports.
Amid this crisis, the Indigenous Tribal Leaders' Forum (ITLF) released an official Press Statement on August 31, 2023, condemning the attacks. In their statement, the ITLF expressed deep concern over the armed Meitei radicals' continuous attacks on tribal positions in the vicinity of Lamka (Churachandpur) and Bishnupur districts, despite repeated appeals for peace by Union Home Minister Amit Shah.
The ITLF detailed the attacks that occurred on the third consecutive day, which began at 6:00 am and simultaneously targeted six locations: Chingphei, Lonphai, Langchingmanbi, Khousabung, Khoirengtak and Kangathei. These attacks resulted in the unfortunate demise of a Kuki-Zo tribal named Paokam Kipgen, with two others sustaining injuries, amidst ongoing firings.
Tragically, two tribes who were injured in a bomb attack on the previous day succumbed to their injuries. Among the deceased, LS Mangboi Lhungdim (50) was noted for composing the song "I Gam Hilou Ham" (Is this not our land?), which became a rallying cry for tribal unity following the outbreak of the violence in Manipur on May 3. The other casualty was 31-year-old Richard Hemkholun, a village volunteer.
The ITLF further highlighted the use of stolen mortar shells from police stations and armouries by Meitei militants, which has resulted in a significant number of tribal casualties. The forum reiterated its call to the government and security forces to prioritise the retrieval of looted weapons from the Meitei community.
The ITLF strongly condemned the ongoing attacks, which it perceives as an attempt to disrupt political talks between tribal SoO (Suspension of Operations) groups and the central government. It was revealed that the latest round of talks commenced on Thursday and were set to continue on Friday (September 1).
In the midst of these turbulent times, the ITLF appealed to security forces to ensure the safety of tribals who are bravely defending their villages in the foothills.
Security forces conducted search operations in vulnerable areas of Kangpokpi, Thoubal, Churachandpur, and Imphal-West districts, recovering arms, ammunition, explosives, and IED materials. Manipur police have set up 130 checkpoints in various districts and detained 1,646 individuals in connection with various violations.
More than 160 people have been killed in the on-going violence that started on May 3, and left several hundreds injured and thousands displaced in Manipur that started after the hill districts organised 'Tribal Solidarity March' against the Meitei community's demand for Scheduled Tribe status.