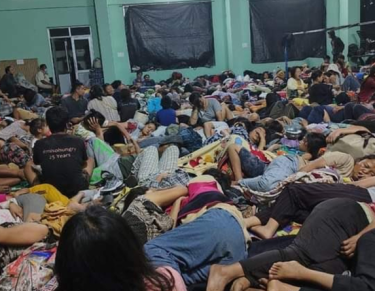 In Manipur, which has been beset by fatal ethnic conflict for a month, a crowd set a seven-year-old child, his mother and his aunt on fire before they could escape.
Tonshing Hangsing, his mother Meena Hangsing, and his aunt Lydia Lourembam were taking the seven-year-old to the hospital to receive treatment for a gunshot wound he got during an attack by alleged Meitei militia members on Sunday.
The ambulance was accompanied by police officers and Assam Rifles troops since the child's health was severe, but as they approached the Iroisemba neighbourhood, they were allegedly halted by Meira Piabis, a women-led civil society organisation.
Tonshing, Meena and Lydia were still inside the ambulance when it was set on fire, according to the 2,000-person crowd, who claimed it had been used to transport Kuki militants before they went on the rampage and attacked police.
"We are in shock. We thought that because Meena and Lydia are Meitei women, they would not be attacked," according to Champi Hangsing, a relative of the victims, who spoke to The National.
The crowd yelled, "We have caught a Kuki," after learning that Tonsing's mother hails from a Kuki-dominant region. They failed to recognize that she was a Meitei because of their blind rage, he added.
Approximately 40,000 people have been displaced by the ongoing conflict in Manipur, which has seen armed members of both the predominantly Hindu Meiteis and the predominantly Christian Kukis ethnic groups. Nearly 100 people have also been slain.