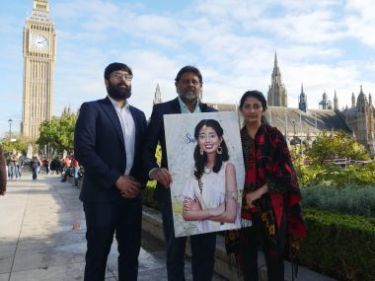 The family of Sudiksha Thirumalesh, the Christian teenager who died while battling the NHS to continue life-sustaining treatment, have called for a public inquiry into how the NHS handles end-of-life cases. 
Thirumalesh suffered from a rare mitochondrial disorder and was dependent on a ventilator and dialysis, with clinicians declaring that she was "actively dying". 
At the time of deciding to contest the decision of doctors to end treatment, Thirumalesh was fully conscious and able to speak. 
She had been fighting in the courts for permission to go to Canada for expiremental treatment when she died on 12 September aged 19. 
A source of contention throughout the case was a gagging order imposed by the court meaning she could only be named publicly as ST. The family said this had prevented them from being able to tell her story and fundraise for the experimental treatment. 
Her father, Thirumalesh Chellamal Hemachandran, mother, Revathi Malesh Thirumalesh, and brother Varshan Chellamal Thirumalesh, spoke about their frustration with the current system during a meeting with the Lords and Commons Family and Child Protection Group (LCFCPG).
"If the NHS doesn't have capacity or expertise to provide specialist treatment they should communicate that clearly to families right at the beginning and allow for crowd funding automatically. The transparency order placed on us was cruel and prevented us from getting the help we needed," they said. 
Varshan said: "The human experience of going through what we did was devastating. No family in the middle of such challenging and tragic circumstances should be gagged and taken to court. A compassionate society does not do this to its most vulnerable.
"Death is irreversible and the person staring at it in the face should be able to make their own decisions, not the court or the doctors. In our case it felt like Sudiksha was discriminated against due to her genetic condition.
"Not allowing patients with mitochondrial disorders like Sudiksha, Charlie Gard and Indi Gregory to live dehumanises and discriminates against them.
"There needs to be a public inquiry as there appears to be more and more concerning cases happening.
"We were shocked to find that one ICU doctor could decide a patients' fate and there was no second opinion. Then in court, one judge backed that prognosis despite, for example, expert evidence that Sudiksha had full capacity to make her own decisions."
Andrea Williams, chief executive of the Christian Legal Centre, which supported the family during its legal battle, called for greater transparency.
"Sudiksha's profoundly disturbing case has demonstrated the urgent need for an overhaul into how critical care decisions are made in the NHS and the courts. There is an urgent need for a more open and transparent system. Justice is done in the light and not behind closed doors," she said.
"We are concerned about how many other patients and families have been through similar ordeals and have had to suffer in silence.
"This case should be a wake-up call for the government to set up an urgent public inquiry into the practices of the Court of Protection and the Family Division surrounding end-of-life cases after a series of upsetting cases."
Earlier this year the LCFCPG released a report strongly criticising end-of-life care in the UK and claiming illegality in some cases. 
Lynda Rose, Director of Voice for Justice UK, said: "The sad truth is that the vulnerable and elderly seeking medical help, who find themselves in hospital, are all at risk – something tragically illustrated by the case of Sudiksha, a young girl battling a terrible disease and only wanting the chance to keep on fighting.
"That chance was denied her by the NHS, who actively prevented her from travelling abroad to seek treatment they themselves could not, or would not, provide.
"To help expose what is surely malpractice in the NHS, leading each year to thousands of premature and inappropriate deaths, it is vital that the LCFCPG hears the full facts from Sudiksha's family."
Republished from Christian Today UK.