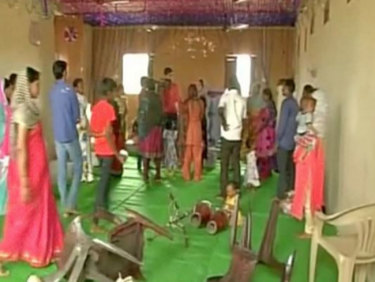 A mob allegedly belonging to Hindu fanatics group called Bajrang Dal entered a church on the outskirt of Raipur, Chhattisgarh while worship service was going on Sunday, attacking the worshippers indiscriminately, injuring five and vandalising the church properties in the process.
The incident happened at Kachna village on the outskirts of Raipur city. Locals who did not want to be identified told media persons that men on motorcycles were shouting "Jai Shri Ram" on the way and alleged that conversion was taking place.
Chief Minister Raman Singh has condemned the attack. "Police are investigating the case with all seriousness. Nobody guilty will be spared, and strict action will be taken," he said in a statement.
Police tried to downplay the conversion as an issue but rather said it was a dispute over land encroachment escalating into "trespass and manhandling".
"The major cause for the disagreement is the encroachment of land, which has been a matter of fierce debate in the village for the past two years. The local Sahu Samaj has been protesting against the land being encroached upon and this prayer hall being built. Even last week, there was a disagreement about the hall," G P Singh, IGP told media persons.
Arjun Pannalal of the Chhattisgarh Christian Forum (CCF) said police were trying to downplay the case.
"They alleged that people were being converted here. They attacked people, including women, and broke fans, chairs and musical equipment. The police came and seized vehicles the attackers came in. They also desecrated the Bible and some of the pictures that were hung on the wall," CCF leader said.
"Yet, there was one praiseworthy thing about the police. When the DSP came, he asked everyone to continue their prayer first, saying that was most important," he said.
"This is the fourth attack on churchgoers in Chhattisgarh in the past five weeks," Pannalal said.
Police informed that seven people have been arrested Monday in the case.
Minister of state for home affairs Kiren Rijiju said the police has taken necessary action and added that the guilty would not be spared.
"We are in touch with the district administration, who has informed that necessary action would be taken and the guilty would be punished," Rijiju said.
According to Catholic Secular Forum (CSF), attacks on Christians, disruption of worship services and prayers have continued to increase since NDA came to power in 2014 and had urged the central government to contain Hindu fringes groups like Bajrang Dal who had been attacking Christians simply on an alleged conversion.