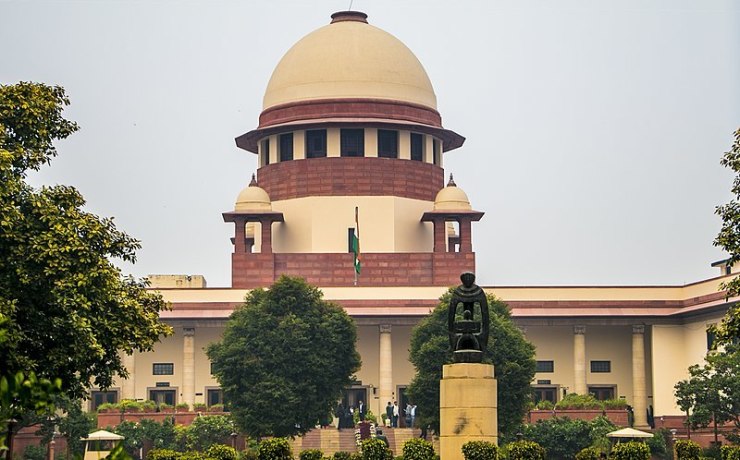 In a significant development, the Supreme Court of India on October 6, 2023, issued a stay on the arrest of Dr. Rajendra Bihari Lal, Vice-Chancellor of the Sam Higginbottom University of Agriculture, Technology, and Sciences (SHUATS), a Christian minority institution in Naini, Prayagraj, Uttar Pradesh. 
The case revolves around allegations of attempted conversion to Christianity. 
Professor Lal faces serious charges, including forced conversion, under various legal provisions, including the Indian Penal Code Act, Protection of Children from Sexual Offences Act, 2012, and UP Prohibition of Unlawful Conversion of Religion Act, as stated by the Uttar Pradesh police. 
The bench, led by Chief Justice DY Chandrachud, also served notice to the Uttar Pradesh government in response to Lal's plea. The court, pending further orders, has instructed a stay on coercive proceedings against Lal in connection with First Information Report (FIR) No. 328/2023 dated June 21, 2023, lodged at police station Naini, Yamuna Nagar and FIR No. 318/2023 dated September 4, 2023, lodged at police station Ghurpur, Yamuna Nagar. 
Senior advocate Siddharth Dave, representing Lal, informed the court that Lal had been admitted to the Intensive Care Unit (ICU) of Indraprastha Apollo Hospital in Delhi for severe pneumonia treatment and was dependent on constant oxygen support. 
Dave also highlighted a distressing incident where the Crime Branch, Allahabad, attempted to arrest Lal on October 4, 2023, disregarding his critical medical condition, pressuring the hospital to discharge him and take him into custody. However, due to Lal's unstable condition, the hospital refused to discharge him on the said date. 
Dave emphasised that, having been under medical treatment for nearly a month, he is not in a condition fit for custody. Such actions by the Respondent State, Dave argued, grossly violate Article 21 - a fundamental right which states that, "No person shall be deprived of his life or personal liberty except according to procedure established by law." 
In addition to the request for the FIR to be quashed, the petitioner also urged the UP government to ensure adequate safety and security not only for himself but also for his family members and other university employees. This move seeks to address the concerns of the petitioner regarding potential threats to their well-being amidst the ongoing legal proceedings. 
The case against Lal stems from an FIR filed in April 2022 at Fatehpur by VHP leader Himanshu Dixit who had alleged that a mass conversion of Hindus was going inside the Evangelical Church of India, located at Hariharganj, Fatehpur. The VHP disrupted Maundy Thursday prayers at the Church and caused social commotion, following which the police had arrested 26 people to begin with.
In all, seven FIR's were then (around April 2022) registered at three police stations in Fatehpur at the complaints of VHP and Bajrang Dal, claiming Christians were trying to convert Dalits and Hindus. 
The complaints at Fatehpur led to a series of arrests and later also targeted Lal, despite the fact that he lives almost 85 miles away from Fatehpur at Prayagraj, where his institution SHUATS is located. 
A media house reported that during police interrogation the pastor disclosed that the "process of conversion was going on for the last 34 days and that such process shall be completed within 40 days." 
Preeti Masih, wife of Pastor Vijay Masih, completely denied the allegations, calling them "false." She clarified that the 40-day meetings in the church were part of the Lent period, a solemn Christian religious observance. 
"Those were the lent days, and it was Maundy Thursday service that day. We would be meeting the next day for a Good Friday service," said Preeti Masih to Christian Today.
Edwin J. Wesley, legal officer and general secretary of the ECI, emphasised that the attendees of the Maundy Thursday service were Christians for many years, some for decades, and none were new converts. He stated that this accusation is a tactic to harass Christians and disrupt church activities.
"None of them were new converts," said Edwin J. Wesley. "It is a technique to harass the Christians and create trouble for them, so that we cannot run our churches peacefully," said Wesley.
Close associates of Professor Lal, who chose to remain anonymous, wholly denied Lal's involvement and dismissed the charges against him. 
Dr. R. B. Lal joined Allahabad Agricultural Institute (AAI) as a faculty member in 1980. In 2000, when the University Grants Commission (UGC) declared AAI as a Deemed University, Dr. Lal was appointed its first vice-chancellor.
Dr. Lal has received numerous awards for his exemplary work, including - STEP Award by Soil Science Society of America, USA, Olson Award, KSU, USA (1988), Fellow, Bio-ved Research Society (1995 ), Fellow, Indian Society of Agricultural Chemists (1997), Educational Pioneer Award (2000), Jai Jawan Jai Kisan Award (2001), Vidya Bhushan Award by Indian Press Council (2004), among others.