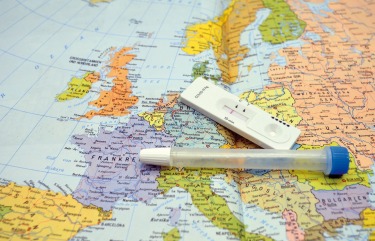 As the number of COVID-19 infections continues to rise, countries such as the United States, the United Kingdom, France, Germany, Hong Kong, Japan and Pakistan have pledged their support by promising to provide India with medical assistance in order to effectively combat the COVID-19 crisis.
The US has vowed to provide Covishield vaccine manufacturers with specific raw materials, as well as ventilators, quick diagnostic test kits, PPE kits, and oxygen generators. It will also send a team of health advisors from the Centers for Disease Control and Prevention (CDC) and the United States Agency for International Development (USAID).
"Today, I spoke with Prime Minister @narendramodi and pledged America's full support to provide emergency assistance and resources in the fight against COVID-19. India was there for us, and we will be there for them," President Joe Biden tweeted.
On Tuesday morning, the UK will send the first batch of ventilators and oxygen concentrator units that extract oxygen from the air.
"We stand side by side with India as a friend and partner during what is a deeply concerning time in the fight against Covid-19," Prime Minister Boris Johnson said.
Countries like France, Germany, Saudi Arabia, Hong Kong, Singapore and Japan will send major oxygen support as well as equipment to generate oxygen.
"I want to send a message of solidarity to the Indian people, facing a resurgence of COVID-19 cases. France is with you in this struggle, which spares no one. We stand ready to provide our support," said Emmanuel Macron, the president of France.
Pakistan will send ventilators, personal protective equipment (PPE), digital X-ray machines and Bi PAP as part of the relief effort.
The Remdesivir drug, which is in high demand for the care of COVID-19 patients, will be sent from Russia.
China, Iran, Canada, Afghanistan and Denmark are among other countries to have expressed their support for India during this tough time.