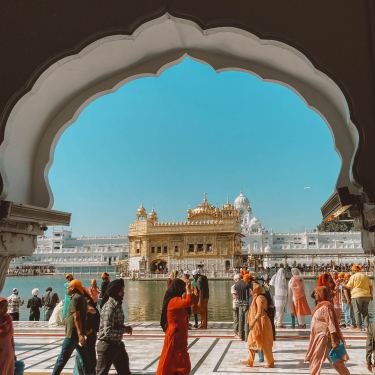 The Christian community in Punjab is up in arms after a self-styled Hindu spiritual guru used derogatory language against the Christian faith and community.
Dhirendra Krishna Shastri, who is also known as Bageshwar Dham Baba is a controversial figure who is often identified with Hindu right-wing politics.
During his recent visit to the Golden Temple, sacred place of the Sikh community in the city of Amrtisar, Punjab, on October 22, Shastri made comments in crude and insulting language against Christians that have caused a major controversy in the state.
He targeted the Christian community by using a colloquial expression "thathri bandhna" which is mostly used in central India and loosely translates to "making arrangements to take out the dead body." Shashtri used the expression for what he called the "Halliulla" wallas (purposely distorting the word Hallelujah to point to Christian, calling them "Halliulla people").
Shastri's mockery and derisive treatment of the sacred Christian term "Hallelujah" and the explicit threat issued by him has sparked deep concern and strong reactions within the Christian community in Punjab. The community is upset, hurt as well as angered and believe that Shastri's comment is a deliberate attempt to create hatred between religious communities, putting at risk the peace in the region.
This incident has quickly evolved into a prominent issue, as Christian groups have demanded that Shastri apologise for his offensive remarks. Christian activists have hinted that they will organise protests if Shastri does not apologise.
Vilayat Masih, the President of the United Christian Dalit Front Punjab, has called on Shastri to retract his statement and issue an apology. The forum has further filed a complaint with the Punjab Police regarding Shastri's remarks.
Additionally, the Global Christian Action Committee in Punjab has taken a similar route and has approached the Punjab police and registered complaints against Shastri. They emphasise the importance of prompt action by law enforcement to prevent incidents like these from going unchecked and to uphold communal harmony in the region.
Jatinder Gaurav, representing the Global Christian Action Committee, accused Shastri of using derogatory language and urged the police to file a case. "Baba has come from outside and is trying to disrupt the peace in Punjab. He is targeting the word… wherever he goes in Punjab, targeting the Christian community. We have been told by the police that appropriate legal action will be taken on our complaint. We will intensify our protest if no action is taken," he was quoted by the media.
Meanwhile, Shastri refused to retract his remarks that had upset Christian groups even after Christian organisations filed a complaint with the Amritsar police against Shastri for hurting religious sentiments.
Instead, Shastri called Christians 'Vidharmis' (infidels) and once again used the word 'halliulla' in a derogatory manner in his comments to the media.
"I only want that these foreign powers, these 'halliula' do not enter gurudwaras (sikh temples) not Hindu temples, and so do not lure simple Hindus or any other person from any other religion. That is why I am going from place to place, other than that I have no goal."
He alleged that "these infidels go from place to place, offer inducements and convert people," and recommended that the law must stranglehold them.
Shastri also told the media that the Pathankot police had advised him not to extend his visit as it could lead to a law-and-order situation.
Booked by the police earlier for provocative remarks, Shastri is no stranger to controversy. He is known for supporting the creation of Hindu rashtra (nation), slammed for promoting untouchability, and his followers have been known to organise events that were marked by extreme hate speech against both Christians and Muslims.