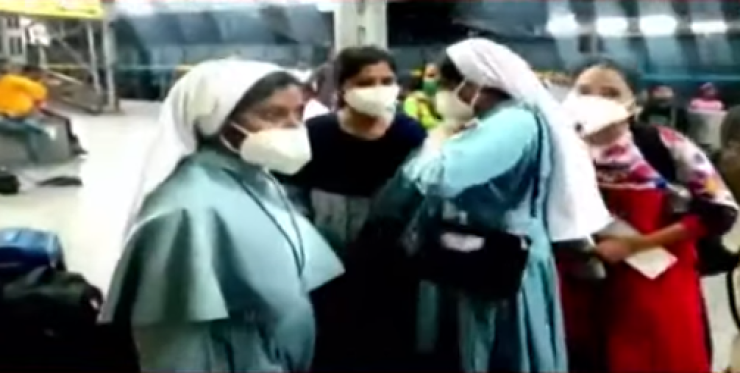 Three men accused of harassing Catholic nuns on a train were granted bail by the Jhansi District Court in Uttar Pradesh on April 7 evening.
The three men, Anchal Arjaria, president of Rashtra Bhakt Sangathan; Purgesh Amaria, secretary of the Hindu Jagran Manch; and Ajay Shankar Tiwari, a member of the Akhil Bharatiya Vidyarthi Parishad, were arrested under section 151 CrPC for the breach of peace and are scheduled to appear in court on April 22.
On March 19, a group of 150 right-wing extremists attacked two Catholic nuns, accusing them of kidnapping two young women and forcing them to convert to Christianity.
Despite the fact that the two young women had evidence of Christian identity, extremists assaulted the nuns and the two postulants who were with them at Jhansi railway station.
Following the incident, the Uttar Pradesh railway police arrested the accused during a train journey on April 2. They were initially denied bail and put on remand.
Now the fact that the extremists involved in the attack have been granted bail does not bother Archbishop Felix Machado of Vasai, the secretary-general of the CBCI.
"We can't see it as a setback for us as there is a provision of people getting bail according to the Indian constitution," he told the UCA News.
"We should keep our good work and believe in the law of the land."
"It may take some time but I believe that one day the accused will be brought under the law," the Christian leader added.
"Several states in India are going through election phases, so many political parties took this case very seriously. As citizens of India, we should always raise our voices against injustice," he said.
Initially, when the video of the assault went viral, it sparked uproar and was strongly criticized by Christian leaders and many others, as it called into question the country's intolerance and violent actions against Christians who are citizens.
Following the widespread condemnation of the incident, Home Minister Amit Shah vowed action against Hindu extremists who assaulted the nuns while speaking at an election rally in Kerala's Christian-dominated Kanjirappally on March 24.
"Those involved in the harassment incident will be brought before the law. I want to assure the people that the culprits behind this incident will be brought to justice at the earliest," Shah said.
According to reports from the UCA News, the incident took a political turn in Kerala after the opposition party leader Ramesh Chennithala and state's communist chief minister Pinarayi Vijayan demanded intervention from the BJP government in New Delhi.