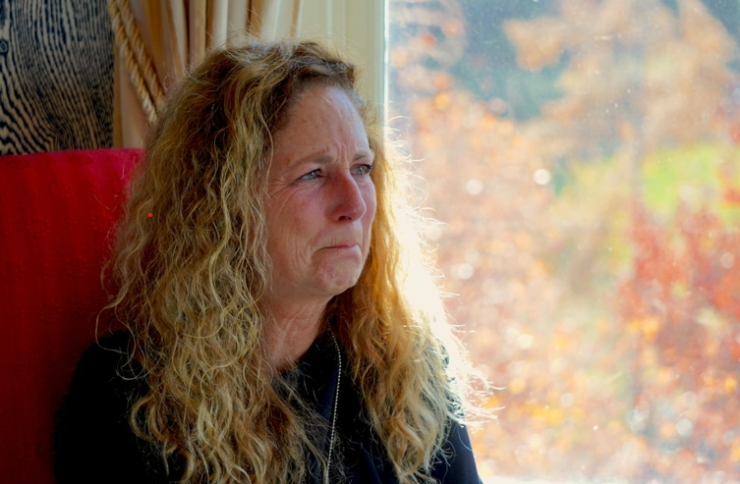 An Israeli-American mother remembers hearing the sound of gunshots during her last phone call with her son, who called to say his last words before the terrorist group Hamas took him hostage. 
Doris Liber is the mother of 26-year-old Guy Iluz, an attendee at the Supernova music festival in the Negev desert last month, where Hamas terrorists killed over 260 people. Her son was abducted while many of his friends were killed. 
The mother told The Christian Post in an interview during her trip to the United States this week that she and Guy's father divorced when her son was about 2, and until the boy was 7, the mother said that it was just "[her] and [Guy] against the world."
As an adult, she and her son kept in touch through phone calls, and he came over once a week for dinner. They frequently chatted about philosophy.
But much like many citizens of southern Israel, her life changed on Oct 7. 
The terror group's assault against civilian communities in southern Israel resulted in the deaths of at least 1,400 people, including dozens of Americans. Israeli officials say Hamas abducted more than 240 people.  
Early in the morning on Oct. 7, a Saturday, Liber awoke to the sound of sirens, which she noted is not unusual in Israel. The standard procedure when the sirens go off is to head to the safe room and wait about 10 minutes, so Liber did that.
After exiting the safe room, Liber said she considered going back to sleep but wanted to ensure her son was safe. When she called Guy, Liber said that she could hear that he was in a car. 
Guy told his mom that he and his friends had evacuated the festival and was on his way to Liber's house.
According to Liber, her son has an apartment in Tel Aviv, and she lives in another town about a 30-minute drive from where he lives. 
A half-hour later, Liber received a phone call from her son's father, asking if she knew where their son was. Liber replied that he was on his way to the house. Guy's father told Liber that their son called him and said that terrorists attacked the festival and shot one of his friends.
"And he tells me that he's on a conference call right now with Guy and that he'll try to connect me," Liber told CP. "He tells me that Guy wants to say his last words." 
After he connected Liber to the call, she heard gunshots in the background as her son told his mother and father that he loved them. Her son spoke in a whisper during that last phone call, but his voice didn't sound terrified, she recalls. 
"He said, 'Nobody is coming out alive. Everybody is dead; nobody is getting out of this alive, so I need to say my last words,'" Liber relayed. 
Guy's father advised his son not to speak so he could remain hidden from the terrorists, and Liber did the same. 
"And so, I told him, 'Guy, I love you,'" she said before hanging up for his safety. "I regret that because that was the last time that I heard from him."
At the time, Liber said that she couldn't believe what was happening, but she was able to process that Guy's father appeared to be in a panic. While warning sirens are normal in Israel, she said the fact that terrorists had made their way into a ground attack was "shocking." 
"Nothing of this size or magnitude had ever happened," she said, noting that before Oct. 7, the worst scenario many probably could've seen happening was an attack carried out by 100 terrorists at most. 
"These were thousands," Liber said of Hamas members carrying out the assault. "Nothing prepared us." 
Liber told CP that Hamas killed all of the friends who attended the music festival with her son. Guy was excited to attend, she said. He and his friends filled five cars and drove south to the festival location. 
Since the attack, Liber has attended the funerals and sat shivas — a mourning ritual for the deceased — for her son's dead friends. She's also traveled the globe to raise awareness of her son's abduction and share her family's story. 
During her trip to Washington, Liber was one of several individuals who requested help from U.S. lawmakers in finding their loved ones whom Hamas took hostage. Liber told CP that she sensed genuine sympathy from lawmakers on both sides of the political aisle and that she believes they'll do what they can to help. 
"I'm a positive person," she said. "So I see the best." 
Liber said her son has a strong interest in music and received his first guitar when he was only 7. Guy often wrote and composed his own songs, and she shared a recording of one of her son's songs on her phone with CP. 
Ever since Hamas took her son, Liber said that she has used a Led Zeppelin song as her phone's ringtone, even though she does not share her son's fondness for the band. The mother said that she has also taken up smoking, as it was one of Guy's habits. 
"I just want to feel close to him," she cried.