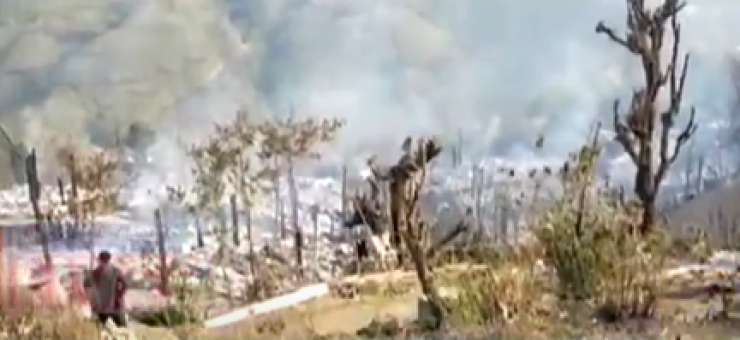 On March 18, a massive fire spread through the Christian-dominated Longliang village in Arunachal Pradesh, killing two people and leaving hundreds homeless.
"The exact cause of the fire is not known. It lasted for nearly two hours, destroying everything the poor people had earned in their entire life," Father Felix Antony, public relations officer of Miao Diocese, told UCA News.
According to the priest, 136 homes were burned down, leaving 500 people homeless, the majority of whom were Catholics.
A 60-year-old man and a five-year-old girl were killed in the incident because they were unable to leave their homes when the massive fire spread around 12:30 p.m.
The houses were close together and made of bamboo with thatched roofs, according to Sethok Thinyan, a local youth leader. When the fire unexpectedly spread, the villagers had little time to remove their valuables.
"A small spark aided by the usual strong wind can spell doom for the whole village. The fire tender could not arrive due to the remoteness of the village. The fire has also taken away the food grains saved for the rest of the year," Thinyan said.
The fire victims are now seeking shelter in the homes of their neighbors who were not affected by the fire.
Bishop George Pallipparambil of Miao has called for prayers and for everyone to come forward to support the people of Longliang in whatever way they can, including providing food, clothes, utensils, and tents for temporary housing.