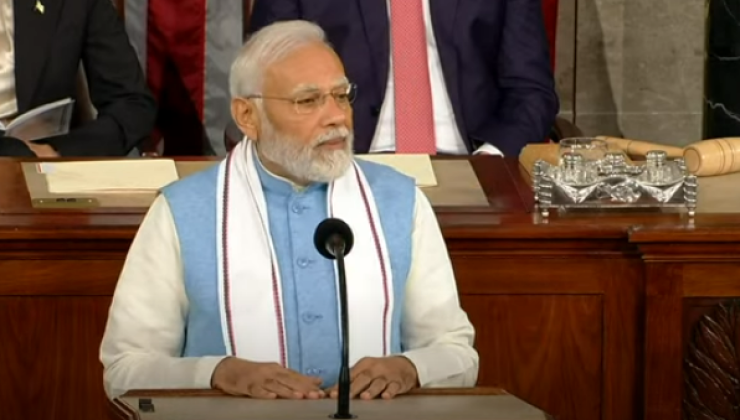 Narendra Modi's unique distinction lies in being the only Indian Prime Minister to address the US Congress twice. His recent speech before both houses on June 23, highlighting the growing ties and shared aspirations of the world's two most prominent democratic nations, followed his initial address in 2016, where he represented "the world's largest democracy."
This transformation is remarkable considering that, prior to becoming Prime Minister in 2014, Modi faced a US entry ban due to allegations of religious violence and mistreatment of religious minorities under his watch. He was denied a US visa in 2005 under a law barring entry for those committing "particularly severe violations of religious freedom."
Since taking office, Modi undertook six visits to the US, including trips in 2014, two in 2016, one each in 2017 and 2019, another in 2021, and a recent visit in 2023. Noteworthy engagements included addressing Madison Square Garden and a joint rally with then-US President Donald Trump in Houston. The recent state dinner and congressional address suggest Modi's rehabilitation and warm acceptance.
During this period, bilateral trade surged from $63.7 billion to $128.55 billion in 2022-23, with the US becoming India's largest trading partner, bolstering economic ties.
Yet, alongside increasing camaraderie, American politicians confront criticisms of Modi, particularly regarding religious violence and treatment of religious minorities in India.
Controversies surrounding Modi's visits
From his first visit in 2014, when he faced a lawsuit even before landing, to 2023, which saw former US President Barack Obama express concern over treatment of Muslim minorities in India, Modi's visits have consistently stirred controversies.
In anticipation of Modi's 2023 visit, over 70 lawmakers, led by US Representative Pramila Jayapal and US Senator Chris Van Hollen, penned a letter urging President Joe Biden to address human rights and democratic principles in India during their meeting.
The letter cited "troubling signs in India toward the shrinking of political space, rise of religious intolerance, targeting of civil society organisations and journalists, and growing restrictions on press freedoms and internet access."
Senators Bernie Sanders and Elizabeth Warren endorsed the letter, but Indian-American representatives Ami Bera, Raja Krishnamoorthi, Shri Thanedar, and Ro Khanna refrained from doing so.
Ro Khanna's stance shifted, as he and fellow co-chair of the Congressional Caucus on India and Indian Americans, Michael Waltz, led a delegation to India, coinciding with Modi's Independence Day address from the Red Fort.
US politicians and Modi
Despite concerns over human rights and treatment of religious minorities including Christians, American politicians, fueled by India's role as a counterweight to China and a growing trade partner, have embraced Modi.
Columnist Fareed Zakaria cautioned against lecturing India on human rights, underscoring India's significance in the US strategy against China.
Johnnie Moore, a republican and Christian leader, rebuked Obama for criticising India's human rights record, asserting democracy thrives in India.
Prominent Indian American politicians like Raja Krishnamoorthi, Srinivas Rao Preston Kulkarni, and Tulsi Gabbard, have been known for either their affiliation with the right-wing groups in India or their admiration and support for Modi as per this article. Hindu American Political Action Committee (HAPAC) supported campaigns of several politicians, while the Rashtriya Swayamsevak Sangh (RSS) seeks bipartisan influence.
Indian Americans, including Nikki Haley, Hirsh Vardhan Singh, and Vivek Ramaswamy, vie for presidential candidacy, reflecting shifting dynamics in US politics and the liberal space within American democracy. While Haley professes a Christian faith, Singh and Ramaswamy are unabashedly Hindu.
This evolution reflects the liberal environment in US politics, allowing candidates of diverse faiths, while emphasising the need to scrutinise public representatives' actions to safeguard democracy.