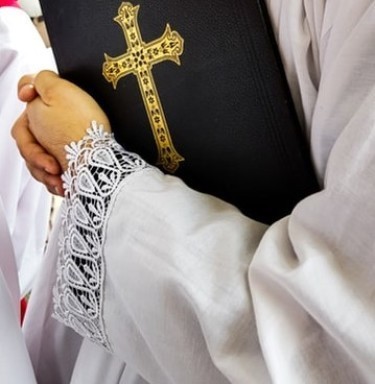 Prime Minister Narendra Modi paid a rare visit to a Catholic church in New Delhi on Easter Sunday, greeting priests and worshipers in an apparent move to court Christian voters for his otherwise Hindu nationalist party, whose allies are known for attacking the minority community.
Modi attended the service at the Sacred Heart Cathedral Church in the nation's capital and planted a tree on the premises on Sunday, The Hindu reported, adding that the ruling Bharatiya Janata Party might have been seeking to appease Christian voters.
However, Christians point to ongoing persecution and a decline in religious freedom since Modi's party came to power in 2014.
A.C. Michael, a former member of the government's Delhi Minorities Commission, released a statement in response to Modi's visit, sharing statistics on Christian persecution in the country.
"It is a matter of fact that incidents of violence against Christians have increased from little over 100 in 2014 to 600 by the end of 2022, according to the United Christian Forum's toll free helpline service," said Michael, UCF's national coordinator. "This year, 2023, has already witnessed 200 incidents in the first 100 days."
He added: "It is also another matter of fact that the Supreme Court of India since Sept. 1,  2022, repeatedly has been asking for details of violence against Christians across India and the Modi government has already sought three extensions as they are unable to find incidents of forceful conversions which are the pretext to target Christians."
Modi tweeted about his visit, emphasizing his meetings with Christian religious leaders and claiming that his government is committed to the welfare and development of all communities.
The visit comes as the BJP seeks to strengthen ties with Christians in the northeastern states of Nagaland and Meghalaya and the southern state of Kerala where the community has its largest population in India.
Legislative elections are expected in nine states this year, along with numerous by-elections for state legislative assemblies and local body elections. Moreover, 2024 will witness legislative elections in an additional seven states as well as the national general elections.
Open Doors states that Hindu extremists seek to "cleanse" the country of Christians and other religious minorities and that this drive is rooted in Hindutva, an ideology that denies Christians and other minorities true Indian identity and aims to purify the nation of their presence.
According to Open Doors, this ideology is responsible for the systemic, often violent targeting of Christians and other religious minorities, including the use of social media to disseminate disinformation and incite hatred.