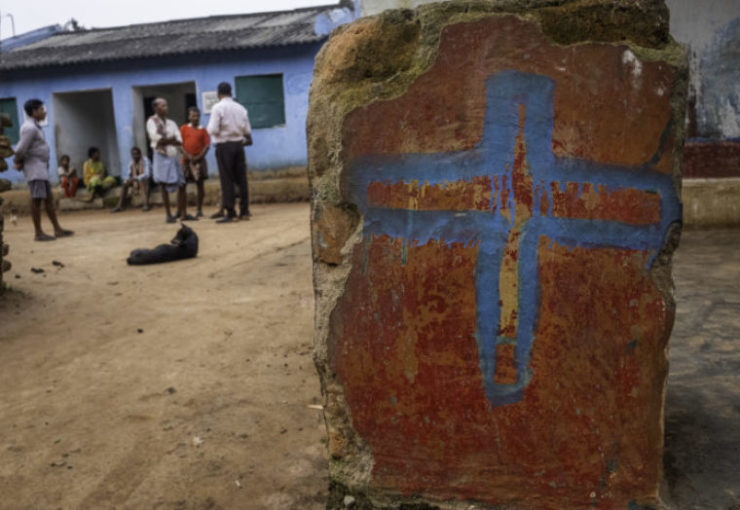 Hindu extremists beat up a pastor in Dhadhela village in Gujarat for visiting a Christian in neighboring village and praying for him on October 22.
Pastor Ramesh Pargi and pastor Shantilal Kalaswa both lead the Sharon Fellowship Church in Dhadhela village. On Tuesday, the two pastors went to Jamboti village in Dahod district to visit a church member who had requested prayers. Pastor Kalaswa's wife, Malika also accompanied them.
After praying, when the three Christians were returning home around 8 p.m., eight extremists surrounded them and started to assault them.
Pastor Pargi was hit on the chest, hands, legs and suffered severe injuries on the back and head. He told Morning Star News that the extremists broke his body completely. "As they beat me, they were repeating, 'Do not come to our village either to visit or to preach – we do not want Christians to enter our village,'" the pastor said.
Pastor Kalaswa somehow managed to escape from the place after being hit by a wooden stick but his wife Malika could not run faster and was caught and assaulted. She sustained injuries on her back.
"The last thing I remember was that Pastor Shantilal's wife was beaten by wooden sticks on her back, and I was being beaten from all sides by wooden sticks," pastor Pargi said.
Pastor Pargi was admitted in Dhun Orthopedic Hospital in Jhalod, and his head injury was so severe that it required five stitches.
Detailing the incident further, pastor Surmal Damor said, "He lost about 1,500 milliliters [1.5 liters] of blood from his head on the spot where he lay unconscious. His shirt, trousers and undershirt are soaked in blood. It was so scary."
Somli Ben, pastor Pargi's wife, told Morning Star News that "I am completely shaken after what happened to my husband. I have never seen or heard anybody beat someone to death for just visiting the sick and praying for them."
On October 23, an FIR was registered at the Sukhsar Police Station against the attackers and investigations are underway.
"The names of four assaulters have been mentioned in the FIR, and the other four will be added to the FIR after their names are revealed during the investigation," Sub-Inspector P.K. Asoda said. "No arrests have been made yet, as the four who have been named in the FIR were not available in their homes. We might check on them at night and nab them."
Several pastors visiting pastor Pargi told they had never witnessed such a horror in Dahod. According to them, small scale incidents have occurred in Dahod and nearby districts in the past, but never this severe, and they had never approached the police in the past.
Shibu Thomas, founder of the aid group Persecution Relief, expressed his concerns over the rising attacks on Christians in the country. He said, "Christian persecution in India is increasing at alarming levels and is spreading like cancer across India, making every Christian's life unpredictable. The miraculous healing power of Jesus is exercised when we lay our hands on the sick and pray, but these days it can earn you a beating and an admission into a hospital. Religious fanatics are not afraid to take the law into their own hands and go unpunished."
According to the aid group, Christians in the country have suffered 302 incidents of persecution within August of this year.