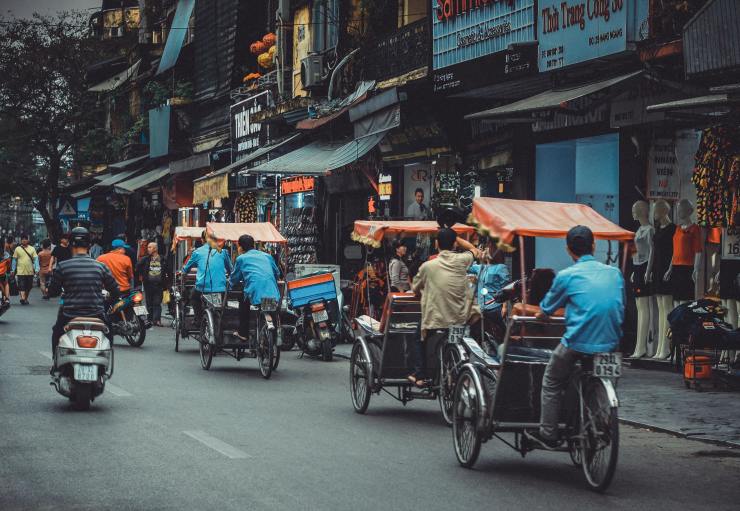 A Vietnamese Catholic priest now living outside the country has revealed how the Communist government of his homeland has put a target on the back of his family and is working to turn the Church into a "tool for their domination." 
Rev. Peter Nguyen Van Khai was one of several religious freedom activists and religious persecution survivors attending the recent 2023 International Religious Freedom Summit in Washington, D.C.
He spoke about the troubling religious freedom conditions in his home country, one of the few remaining countries still ruled by a communist party. For years, regulations and laws governing religion have allowed the government to control the activities of registered religious organizations and churches. 
Critics warn new draft regulations proposed last year by the Government Committee for Religious Affairs would allow the government to exert even more pressure on registered religious organizations. 
Van Khai, a Vietnamese Catholic priest who has lived in Rome for the past decade, detailed his experience as a Catholic priest having to study underground in Vietnam and the challenges faced by Christians in his native country in an interview with The Christian Post.
"The Communist government [has] forbidden me to become a priest and they [have] forbidden me to study in the monastery," he said. "They [have] forbidden me to do pastoral work in churches, and they [have] forbidden me to go abroad for studying."
Van Khai said he studied "theology and philosophy underground [for] 14 years" before he was ordained as a Catholic priest.
After his ordination, he said the communist government subjected his family to adverse treatment.
"My parents and my siblings and my sister and my brother lost their jobs by police. They told them that they are my sister and my brother and … they are not allowed to continue their day job in the … state apparatus," he said. 
Following 10 years of working as an underground priest in Vietnam, Van Khai "escaped secretly from Vietnam to Rome," where he works and studies. He has lived in Rome for 12 years.
He told CP that the hostility toward Christianity is a central feature of life in Vietnam. 
"Christians are severely discriminated [against] in every aspect of life," he said. "For example, they are not allowed to work in the state apparatus." 
"There are no chaplains of our schools, of prisons, [and hospitals]," he continued.
The shortage of available pastors inspired his father, a layperson, to take on the role of pastor at his church.
"I was born and raised in [a] Catholic family and my pastor … was arrested and killed before I was born," he recalled.
Van Khai reported that his parish and many others "have not had [a] priest for more than 40 years." 
He said his father was "almost like a pastor" who "offered [an] entire liturgy."
"He baptized the children and the new Catholics. He read also the rites of mass for parishioners, and he ... read also the homilies, the bishops' homilies for people, and he gave the communion to [parishioners] in the church," he said. 
Van Khai's upbringing motivated him to pursue a vocation in religious life.
"I saw that Christians were persecuted and that they had to endure so much suffering and humiliation," he said. "I loved them, and so I became a priest underground."
One of Van Khai's spiritual mentors, a fellow Catholic priest, spent 15 years in prison.
Although he acknowledged that "the Communist government doesn't arrest the priests or bishops anymore," he said the situation has "worsened because the Communist Party is trying to control the bishops."
"In our country, the Holy See sends the bishop candidate to [the] government, and the government chooses who they want. So they try to control the church and the priest and the [Catholics] via bishop. And the government [holds] the right of veto," Van Khai explained.
He said that the ruling party in Vietnam is seeking to "turn the church into tools for their domination."  
In northwestern, central and southern Vietnam, Van Khai said "people of different ethnic minorities are often persecuted."
Converts from Buddhist or ethnic-animist backgrounds face the most severe persecution from authorities, their families, friends and neighbors.
"When they convert to Christianity, they suffer a lot because of their Christian faith," Van Khai said.
The 2023 Open Doors US World Watch List, which ranks countries based on the level of persecution and discrimination faced by Christians, ranked Vietnam as the 25th most dangerous country in the world for followers of Christ.
"Historical Christian communities (such as Roman Catholic churches) enjoy a certain amount of freedom unless they become politically active, which can lead to imprisonment, or are involved in land-grabbing cases," Open Doors, which monitors persecution in over 60 countries, warns in a Vietnam fact sheet. "Evangelical and Pentecostal congregations, most of whom gather in house churches, are closely monitored and face discrimination at various levels of government and society."
Open Doors notes that since many converts belong to ethnic minority communities like the H'mong, authorities are "particularly suspicious of them." 
"Their homes are sometimes destroyed and they are then forced to leave their villages," the fact sheet states. "Yet their numbers are reported to be growing."
Van Khai said cities have more religious freedom because local leaders are "afraid of international opinion," and members of persecuted minority groups have more resources to fight back.
On the other hand, people who live in the more rural regions of the country are "lower [in] the culture and don't have enough capacity to [fight back] against the local authorities" who "hate the Christians." 
Van Khai attributed the persecution of Christians "more heavily and more often" to the removal of Vietnam from the U.S. State Department's list of countries of particular concern for religious freedom violations in 2007.
He urged the U.S. government to "increase its dialogue with the Vietnamese government."
While the U.S. State Department has not included Vietnam on the annual CPC list since 2007, it did place the Asian country on the lower-tier Special Watch List for engaging in or tolerating severe violations of religious freedom.
In its 2022 Annual Report, the U.S. Commission on International Religious Freedom, an agency created by Congress to make recommendations for the State Department's CPC list, recommended the placement of Vietnam on the CPC list. 
In its latest annual report on the religious freedom conditions in Vietnam, the U.S. State Department details the strict government oversight that churches must follow to receive government recognition. 
"Publishing, producing, exporting, or importing religious texts must occur in accordance with laws and regulations related to publishing. Legislation requires all publishers be licensed public entities or state-owned enterprises. Publishers must receive prior government approval to publish all documents, including religious texts," the report states. "By decree, only the Religious Publishing House may publish religious books, although this is not enforced in all cases. Any bookstore may sell legally published religious texts and other religious materials."
"The constitution states the government owns and manages all land on behalf of the people," the report adds. "According to the law, land use by religious organizations must conform to the land law and its related decrees."