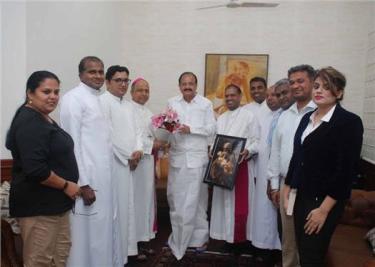 A church body on Aug. 24 met India's newly elected Vice President Venkaiah Naidu who appreciated the contribution of Christians towards the nation's growth.
A group of bishops from Catholic Bishops' Conference of India (CBCI), including, Bishop Theodore Mascarenhas, secretary general, and Mgr Anil Couto, archbishop of Delhi, and eight other reps of the archdiocese, visited Naidu and congratulated for his recent elections. They also restated the commitment of the Catholics to national unity and secular values, according to Herald Malaysia Online.
Naidu appreciated the support of Christian bodies. He said that Christians are a peaceful community, whose work signifies a great contribution to the nation's growth.
During the meeting, CBCI raised some burning concerns. When questioned about the recent increase in religious violence in the country, he defended Prime Minister Narendra Modi, despite his nationalist policies have fuelled communal tensions.
He said that Modi works only by the importance of entire nation and society. Instead of taking the discussion further, he put the blame on the state governments for stirring violence amongst religions and castes to get votes.
However, he condemned the cow vigilantes against minorities who trade meat and leather. Though cow is an important animal, life of a human being is incomparable, he said.
When Naidu was speaking about the nation's secular values, CBCI requested him to take steps to end the rising violence and incidents of intolerance against Christians such as interrupted ceremonies in Tamil Nadu, desecrations in Goa, restrictive regulations on the churches elsewhere.