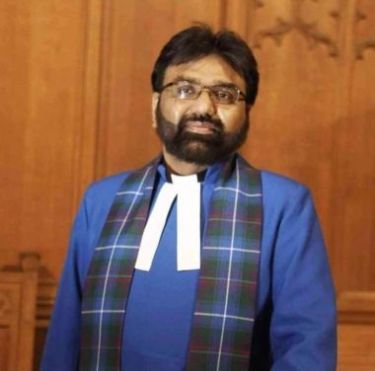 A Church of Scotland minister whose mother and 19 relatives were murdered by terrorists in Pakistan has opened up about how he was eventually able to forgive his family's killers.
Rev Aftab Gohar admitted it was not easy to forgive the suicide bombers who struck All Saints Church in Peshawar on 22 September 2013. 
He had many questions and wondered why faithful Christians had been allowed to die in this way.
"It was a very hard time for us all and I was questioning 'why did it happen to those who were very regular churchgoers?'" he said.
"Those who didn't go to church on that day, did they do the right thing?
"The Bible says 'when you are persecuted because of your faith in Jesus, you are blessed'.
"They all died for their faith." 
On that harrowing day, Rev Gohar remembered getting ready to preach a sermon at his church's Sunday service in Scotland when he received a text message telling him about the suicide bombing and the death of his family members in Pakistan. 
Rev Gohar, who grew up in Pakistan and attended All Saints with his family, did not want to disappoint his own parishioners by cancelling the service so he carried on as normal and only told them what had happened afterwards.
At least 122 people were killed when two explosions ripped through All Saints and over 250 were injured. 
Rev Gohar's mother, Iqbal Gohar, was killed in the attack, as were his nieces, nephews, cousins, uncles, aunts and friends.
He admits it was not easy to forgive their killers but he took inspiration from Corrie Ten Boom, a Dutch woman who survived the Ravensbrück concentration camp after being caught helping Jews to escape the Nazis.
"It was hard for me to forgive those responsible but with the strength of God I did so and freed myself from the extra burden of hatred and revenge," he said.
"On the cross, Jesus prayed for those who were crucifying him: 'Forgive them Father, they don't know what they are doing.
"Jesus said 'Love your enemies and pray for those who persecute you" – a lesson that some people find impossible to follow."
He blames the attack on Pakistan's controversial blasphemy laws, which Christians say are often abused to target them.
Rev Gohar, who has been a full-time minister in the Church of Scotland since 2008, joined other campaigners in handing in a petition to the Pakistan Consulate in Glasgow last week.
The petition calls on the Pakistani government to improve safety for religious minorities and use the blasphemy law to punish those who attack Christians. 
Rt Rev Sally Foster-Fulton, Moderator of the General Assembly of the Church of Scotland, said: "We are united in sorrow as we reflect on the impact this atrocity had on the families of the victims and survivors and sadly Christians continue to be persecuted today.
"A report to the 2023 General Assembly noted that Pakistan is in political turmoil and blasphemy has been weaponised.
"This law affects everyone but it disproportionately affects marginalised people and communities. False accusations can ruin lives, forcing people to leave their homes and go into hiding.
"The Church continues to engage with ecumenical and international partners on the misuse of the blasphemy law and we call on the government of Pakistan to redouble its efforts to protect minority groups."
Republished from Christian Today UK.