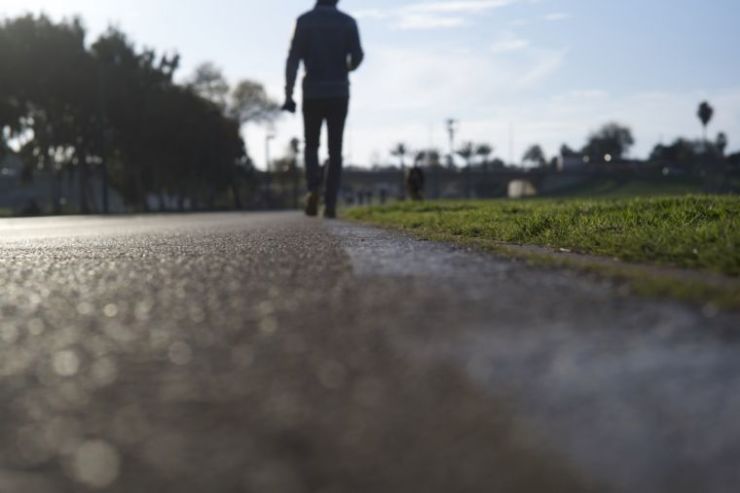 Going to the Holy Land, tackling the 500-mile pilgrimage trail to Santiago de Compostela or the 100-mile Pilgrim's Way to Canterbury are just not possible right now.
But there are several ways we can all take a 'lockdown pilgrimage' in these challenging days.
As Palm Sunday approaches, we can follow Jesus through the pages of the gospels as he first enters Jerusalem, and then travel with him as the events of Holy Week and Easter unfold.
Read slowly through the passages in the gospels and imagine yourself into the accounts being given. Be present in the stories. Picture yourself at the Last Supper, stand with the women at the foot of the cross, walk with the disciples on the road to Emmaus.
Bring the emotions that you feel into your prayers and commit them to our heavenly father. Be still before God and worship him.
Or look back over your life and see it as a pilgrimage. What were the big events, the good times and difficult times? Where was God in all this? Who were the people who accompanied you on your pilgrimage?
As I look back, I recognise the people who have been present with me, who have walked the journey alongside me. Family and friends, work colleagues and bosses, church leaders and fellow Christians. The good advice I have received, and some taken, down through the years.
Give thanks to God, and to those people who walked with you on your life's pilgrimage.
Or here are two books that could help.
Who can we become when life doesn't go as planned? That was the pressing question asked by regular BBC Radio Two contributor, Sheridan Voysey, as he set out on a pilgrimage to Durham Cathedral from Lindisfarne.
The question tackled in his book, 'The Making of Us' has never been more urgent. Around the world, millions of people are finding their lives in danger or put on hold as the coronavirus sweeps the world.
Voysey took on his pilgrimage after experiencing infertility in his marriage, an international move and major professional changes. The book chronicles his thoughts and reflections as he made the 100-mile pilgrimage. It's a deeply moving read.
Or join Sarah Meyrick's band of pilgrims in her novel 'Finding Anna'. When musician Anna Greene dies at just 42, her family and friends are stunned by their sudden loss. Anna's last request is that those who loved her should walk the Pilgrims' Way to Canterbury in her memory. The story unfolds as the pilgrims walk together to the cathedral. A poignant, engaging story of love, bereavement and discovery.
Finally, if your brief exercise period outside home brings you near a church, then take a moment to stand outside it and pray. Sadly, it will be closed just now.
Pray for all the people who have been associated with the church down through the years, all those living in the area around the church now, and all their needs at this time.
It may be a short pilgrimage of less than a mile, but in these uncharted times, it's just as significant. So whether you're trying to fill the hours, or exhausted from looking after young children, or perhaps have a day away from a frontline role, why not consider embarking on a 'lockdown pilgrimage' to bring you closer to God. It might just make all the difference.
Rev Peter Crumpler is a Church of England priest in St Albans, Herts.