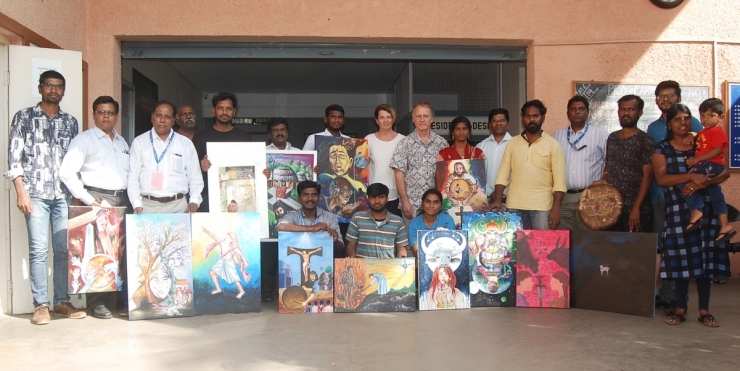 Dalit Christian artists are breaking stereotypes by developing art that portray the Christian faith perspective of Dalits.
In a three-day art workshop that was held in Indian Social Institute (ISI), Bangalore, from Jan. 18 to 20, 17 Dalit Christian artists participated and came up with arts that bring out the faith aspect of Dalit Christians.
The event has helped to break away from stereotypes around Dalit art works, which usually bring out the pathetic reality of ethnic group.
Led by Fr Devasagayaraj, Secretary of Catholic Bishops' Conference of India Office for Schedule Castes and Backward Classes, and Fr Selva, the ISI director, the workshop was concluded on Jan. 20 by forming National Dalit Christian artist's forum and exhibiting the artworks.
Inbakumar, General Secretary of Students Christian Movement of India (SCMI), who opened the exhibition, said that "Dalits have their own culture which is very rich and we should appreciate it and tell the society and the whole world about its richness."
He also insisted that the art forms be used as weapons of Dalit Liberation.
The artist's forum was formed to acknowledge and appreciate the Dalit artists who are usually gone unrecognized by the society.