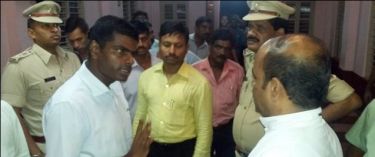 An act of Church vandalism by unknown miscreants escalated tension in the coastal districts of Udipi and Dakshini Kannada in the state of Karnataka.
The incident, which took place in the Kundapura town of the State, is 440 kms from the IT hub of India, Bangalore.
The incident came to light on Monday morning June 6, at 6:30 am when some people came to the church for morning prayers and found the statue of St. Anthony demolished. The glass enclosure where the statue was kept, was also broken. The statue was erected near the church entrance.

As the news of the incident spread a crowd gathered at the church premise. Police, after arriving at the spot, took stock of the situation, conducted a preliminary inquiry and concluded that the church was vandalized in the early morning on Monday. Later in the evening, Udupi district superintendent of police (SP) Annamalai visited Kandlur and collected information regarding the incident of damage of the statue.
A case was registered at the Kundapur police station against unknown miscreants. At press time the police are looking through the CCTV footage to identify the culprits.
With a Christian population of 1.87% , the state has witnessed the second such incident within the last 15 days.