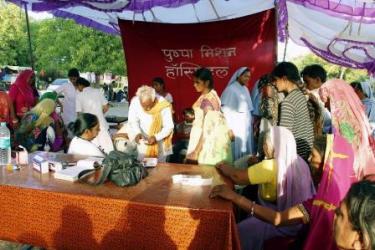 Ujjain: A Good Samaritan effort by a conglomeration of nuns is instrumental in providing medical aid to those in need of it at the most unlikely of places.
A tin-roofed dispensary set up by the church inside the Carmel Convent School campus is catering to hundreds of thousands of Hindus in a central Indian town of Ujjain in Madhya Pradesh, even as the pilgrims thronged the city as part of a Hindu ritual bathing festival that is held once in three years and is considered auspicious as part of their religion.
Some 25 nuns coming together from five religious orders are running the dispensary along with 120 nurses and assistants.
Catering to an average of 250 patients a day at the dispensary, the sisters are catering to Hindus from all over India including villagers who have come to take part in the Kumbh Mela.
About 7.5 million Hindus take the holy bath in the Kshipra River every year. The pilgrims believe the bath at the Kumbh festival will cleanse them of their sins and help in attaining Moksha (salvation). A month long Kumbh festival began on April 22 and will end on May 21.
Seeking an opportunity to let the love of Christ known to the pilgrims' sister Purayidom, a member of the Sisters of the Adoration of the Blessed Sacrament said "Our main purpose of life is to bring people closer to God. I saw the burning desire of people for God. They came here from far and wide and were ready to undergo any hardship just to experience that moment of being with God. Even though we could not proclaim the Gospel, I am happy that I could introduce God to them through our service," the 64-year old nun explained.
Bishop Sebastian Vadakkel of Ujjain, while praising the nuns' effort was hopeful that such endeavours would serious transform the society. He added that the dispensary was a way of sharing our Christian love and concern with the majority community.
Since Madhya Pradesh state has Anti-conversion laws that prohibits even sharing gospel, the nuns at the dispensary are exercising great caution.