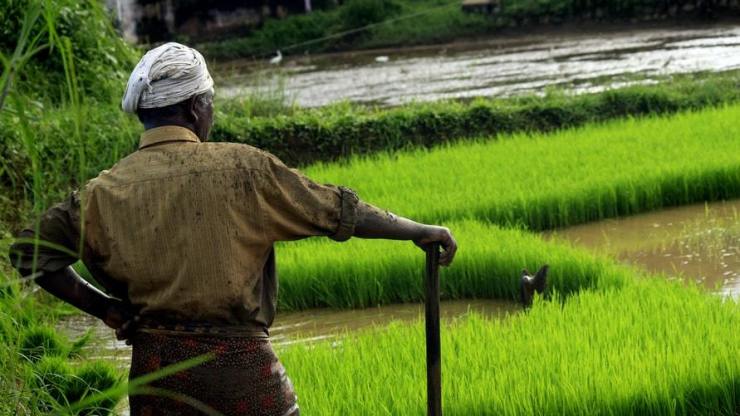 Thousands of farmers camped outside New Delhi continue to protest against the controversial farm reform laws that liberalise agricultural markets by allowing farmers to sell to anyone at any price, instead of selling to local market committees for a fixed price.
Farmers mostly from Punjab, Haryana and Uttar Pradesh are demanding the federal government to withdraw the laws enacted on September 20 and restore the previous "managed" system.
For about 58 percent of the country's population and 70 percent of India's rural households, agriculture is the main source of income. Due to repeated droughts in recent years and the current COVID-19 situation, their livelihood is at stake.
While Prime Minister Narendra Modi believes the new rules will benefit the farmers by promoting greater inter- and intra-state trade in farm products, small farmers feel the new system favours large monopoly groups, which will now be able to impose prices.
They argue that the new laws threaten to end the provisions of the state providing for minimum support prices for their produce, leaving them at the absolute mercy of multinational companies.
"The farmers' demands are genuine. The government should listen to them and repeal the controversial laws for the interest of the county," said Bishop Alex Vadakumthala, chair of the Indian bishops' commission for labor.
"These laws are not meant for the welfare of the farmers, and if they are implemented in the current form, it will be disastrous for the small and medium-level farmers," he said.
The Christian leader told UCA News the new laws will leave the farmers with "no power to bargain."
"...these laws are beneficial to multinational companies, which can store farm produce indefinitely at their will and sell them when they feel like it. Such a situation is perilous for farmers and for consumers," he explained.
"The multinationals will also decide what the farmers should produce and control the agriculture sector at the cost of the farmers." 
Bishop Vadakumthala urged the government to focus on the poor and revisit the laws. "…farmers are the backbone of this country, and if the backbone is broken, no one will be able to stand up," he said.
Father Joseph Ottaplackal, chairman of the Indian Farmers Movement (INFAM) insisted the government to take "a lenient view towards the demands of the farmers failing because the reforms spell disaster for the farming community."
According to the data from the National Crime Records Bureau, around 12,360 farmers or farm laborers committed suicides due to the distress in the farm sector in 2014. Since 2015, there has been no government data published on farmer suicides.