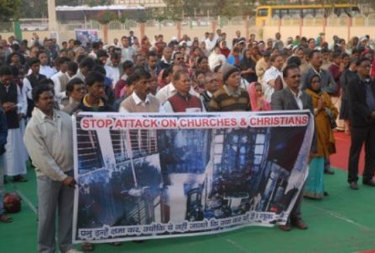 Archbishop Leo Cornelio of Bhopal alleged Friday that the misuse of anti-conversion law in Madhya Pradesh state, has brought more suffering and anguish for the Christian community as it has given the propagators of Hindutva ideology a free hand to accuse anyone of forced conversion.
"Fringe groups try to take advantage of the fact that the BJP is in power," the archbishop said explaining a recent case where 12 people gathered at a house prayer were accused of forced conversion, arrested and sent to jail.
Catholic Secular Forum, a Mumbai based rights group, in its annual report few days back highlighted Madhya Pradesh as a state with the recorded number of attacks on the minority community in 2015.
The Madhya Pradesh Dharma Swatantraya Adhinivam, or the Madhya Pradesh Freedom of Religion Act, 1968, prohibits religious conversion by the use of "force" or "allurement" or by "fraudulent means". Conversion is a cognizable offense under the Act. Allurement has been loosely defined as any temptation in the form of any gift or gratification either in cash or kind, grant of any material benefit, either momentary or otherwise.
Responding to a query on conversions, he remarked, "Thousands of students study in Christian schools but how many of them complain about conversion?" he said, adding that there could be "an odd case of conversion but without inducement. People are free to make their religious choices". He also highlighted how the church and institution's primary focus is humanitarian service.