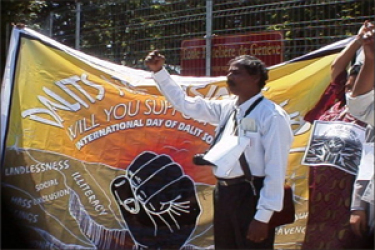 The state government of Andhra Pradesh on Feb. 6 has approved a resolution that extends the number of reserved seats in schools and public employment to Christian Dalits too, an advantage that only the Hindu, Buddhist and Sikh members of the disadvantaged castes benefited.
"This resolution is really important. Most of the Christian Dalits live in Andhra Pradesh and Tamil Nadu. If the Chief Minister supports such an initiative, he gives our cause great support," Fr. Z Devasagayaraj, national secretary of the Office for Dalits and Disadvantaged Castes of the Indian Bishops' Conference (CBCI) told AsiaNews.
"He, together with other regional parties, will play a decisive role in the formation of the next Indian government," he added.
The resolution was introduced by the Chief Minister Chandrababu Naidu.
Formally, the law asks the Indian Parliament to grant the status of "Scheduled Castes" to the Dalit Christians, that is to say disadvantaged caste. Now the final decision passes to the Center.
The law that excludes converts to Christianity from reserved seats dates back to 1950. For its part, the Indian Church has always protested against this "shameful" form of discrimination against converts to Christianity.
Now, "it depends on the central government to include or not the Christian Dalits in the affirmative action programs [a political instrument that serves to promote the participation of discriminated sectors of the population, ed], said Devasagayaraj.
"However, state governments can make recommendations. At present, six States have already submitted these proposals. Now Andhra Pradesh too. This means that the state would support the law [which includes Christian Dalits], if it were presented in Parliament," he added.