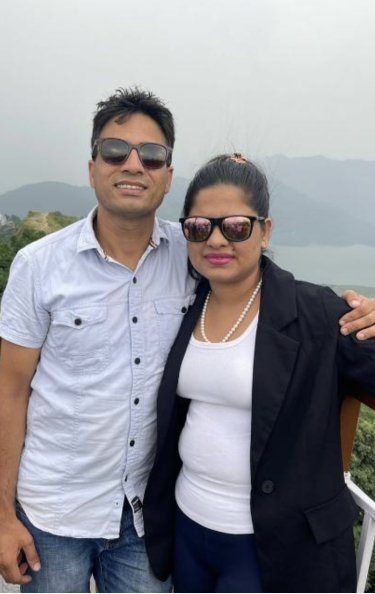 The Supreme Court in Nepal denied the application of a Nepali pastor and upheld the High Court judgement of a one-year jail term and fine, even after there were no witnesses to establish the allegation of proselytization, said the pastor himself.
Keshab Raj Acharya, 35, of Abundant Harvest Church in Pokhara, Nepal, has been sentenced to one year in prison and fined 10,000 Nepali rupees (75 USD) under the country's proselytization law, which came into effect in August 2018.
"We were very hopeful from the Supreme Court and the judgement has come as a shock to us. We still are not able to understand the reason for such a judgement," said Junu Acharya, Pastor Keshab Acharya's wife, while speaking to Christian Today.
Acharya could be arrested anytime, said Junu.
The Supreme Court's verdict came on October 6, 2023, wherein the Court rejected Acharya's fresh application and upheld the High Court verdict of 1 year imprisonment pronounced on July 13, 2023.
"Supreme Court at the very first hearing rejected our request without even seeing the documents," said Pastor Keshab Acharya to Christian Today. "They said that the High Court's decision would be final, and they would not discuss the case further. They simply rejected our plea without even considering it. It took them 2 to 3 minutes to reject the case," lamented Acharya.
The Dolpa District Court earlier sentenced pastor Acharya to two years in prison and a fine of 22,244 Nepali rupees (approximately 167 USD) on November 30, 2021 which was challenged in the High Court and the judgement reduced the jail term to one-year along with fine.
His wife, Junu, confident of his innocence, stated, "He had not forced anybody to change their religion."
Junu believes her husband's prosecution was a deliberate effort by the government to set an example and deter Nepal's Christian community from spreading their faith. She emphasised that Hindu extremists feel threatened by the growth of Christianity in Nepal.
Despite a lack of substantial evidence, Pastor Acharya was convicted based on the testimony of one person. No witness came forward to corroborate the allegation.
"The witnesses said that Keshab is not involved in any kind of religious conversion, and that he had simply distributed paper pamphlets which they read and discarded," said Junu.
She further stated that when they were asked if the pastor should be convicted for religious conversion? "They said 'No'. The statements of the witnesses are still in the records with the court," Junu claimed.
Junu and Pastor Acharaya have been pastoring this church for 9 years and have two sons – 5 plus and 4 years old.
Legal saga
Pastor Acharya's ordeal began on March 23, 2020, when he was arrested at his home in Pokhara, Gandaki Pradesh Province. The arrest followed the circulation of a video on YouTube, where he was seen offering spiritual guidance against the novel coronavirus during a church service.
Misinformation soon spread, alleging that Pastor Acharya had claimed, "If you become a Christian, you cannot get infected by COVID." His wife, Junu, clarified that no such statement was made.
Initially granted bail of 5,000 Nepalese rupees (approximately 41 USD) by the Kaski District Administration Office on April 8, 2020, Pastor Acharya's release was short-lived. He was re-arrested moments later on charges of "outraging religious feelings" and "proselytising," as stated in court documents.
The bail amount was then dramatically increased to 5,00,000 Nepalese rupees (about 4,084 USD) by the Pokhara Kaski District judge on April 19, 2020. Upon being released on bail again on May 13, 2020, he was promptly re-arrested at the courthouse, this time facing a third set of charges. He was then transferred 400 miles to a jail in Dolpa District, a three-day journey.
Charges were filed by the Dolpa District Attorney on May 21, 2020, invoking Section 158 (1) and Section 158 (2) of the Nepal Criminal Code, which respectively prohibit converting someone from one religion to another and undermining one's religion with the intent to convert another person.
After Pastor Acharya's bail application was initially rejected on May 22, 2020, the bail amount was eventually reduced to 3,00,000 Nepali rupees (approximately 2,500 USD), leading to his release on July 3, 2020.
In a letter dated July 18, 2020, the International Religious Freedom Roundtable urged Nepal's attorney general to reconsider Pastor Acharya's arrest, deeming it "arbitrary" and "discriminatory." This call was echoed in the U.S. Department of State's 2020 report on International Religious Freedom.
Despite securing bail, Pastor Acharya endured the arduous task of appearing before the court three times each month, once for each case, to fulfil official obligations, his wife revealed. This process was not only financially draining but also physically demanding.
The remote Dolpa District, nestled in an isolated corner of Karnali Province, bordered by Tibet, presented additional challenges. With no direct links to other districts, it lacks road access. Travellers are left with no choice but to embark on a complex journey involving a vehicle, bicycle, and ultimately a three-day walk, particularly challenging given the harsh weather conditions.
The chairman of advocacy group Voice for Justice - Joseph Jansen told AsiaNews that "It is illegal and unethical to compel someone to change their faith by use of threat or coercion; however, Pastor Keshav Acharya did not resort to coercion to convert anyone to Christianity. The pastor only exercised his right to freedom of religion and did not commit any offence. It is regrettable that Nepal's anti-conversion laws are worded and enforced in such a way that they may also be applied as anti-blasphemy measures."
The Christian community in Nepal has faced increased persecution since 2018, with cases of violence, false accusations and propaganda against Christians. By criminalising conversions, Nepal has been criticised for violating fundamental freedoms of religion or belief.