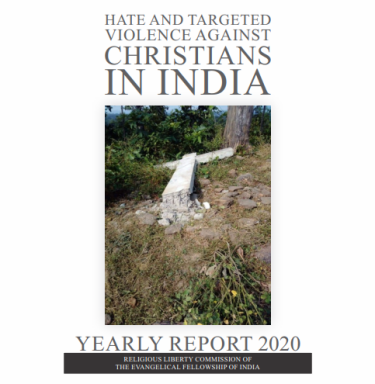 In a recently published report, the Religious Liberty Commission (RLC) of the Evangelical Fellowship of India (EFI) documented 327 cases of persecution against Christian community in 2020, while most of the population was under COVID-19 lock down.
Falsely accused arrests, church demolitions, hate campaigns, physical violence, social boycotts, threats, murders and so on were among the types of violence mentioned in the report.
State wise, Uttar Pradesh topped the list with 95 cases of incidents, followed by Chhattisgarh and Jharkhand with 55 and 28 cases, respectively.
On March 24, the government of India declared the first nationwide lockdown, and there were 39 reports of violence against Christians in the same month, the highest in relation to any other month in 2020.
In 2014, EFI recorded 147 instances of violence against Christian community in the country. After five years of BJP rule, in 2019, it recorded 366 cases; and in 2020 when the country was still under lockdown there were 327 registered cases.
EFI detailed all the incidents that took place in 2020 in its recently published report, illuminating the hate and targeted violence against Christian community in the country.
Again, it is important to note that the number of cases registered by RLC or any other organization is just representative, and the actual figures could be much higher because most of the events are unreported due to fear and lack of faith in the justice system.