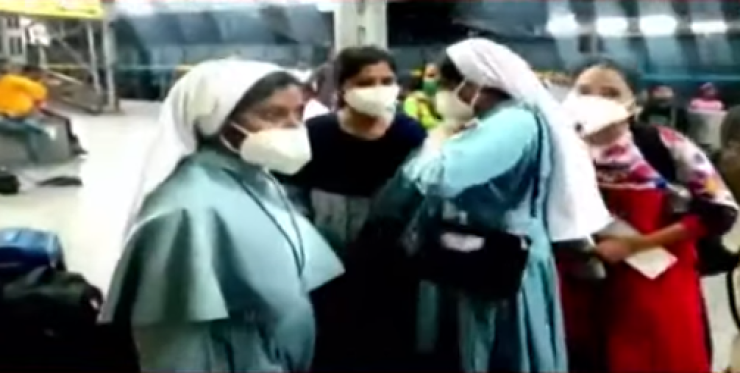 The Uttar Pradesh railway police arrested two men in connection with the harassment of nuns in Jhansi station during a train journey on April 2.
The two have been identified as Anchal Arjaria and Purgesh Amaria, according to a statement released by the Jhansi administration.
A senior railway police officer, Naeem Kham Mansoori, said that "Around 10 p.m. at night, a team of the railway police was carrying out a patrolling exercise at the Jhansi railway station when they were informed that two people had been discussing the March 19 incident and saying that the police did not act properly and let off the nuns."
When the officers interrogated the two, they were agitated and threatened to stage a demonstration against the police.
"This is why they have been arrested," Mansoori explained. "The police has taken suo moto cognizance of this case and we will file an FIR and send them to jail."
The arrest comes after a mob of 150 right-wing extremists attacked two nuns and two postulants at Jhansi railway station on March 19.
The two nuns were suspected by the extremists of abducting the two young women in order to convert them to Christianity. 
Despite the fact that the two young women had evidence of Christian identity, extremists assaulted all four women, shouting the Hindu nationalist slogan.
Jhansi District Magistrate Andra Vamsi told The Hindu that the two arrested men were charged with "causing discomfort" to the four Christian women under CrPC Section 151.
They were refused bail and put on remand after appearing before a magistrate.
Proceedings against others involved in the March 19 incident are "in the pipeline," according to the District Information Office of Jhansi.