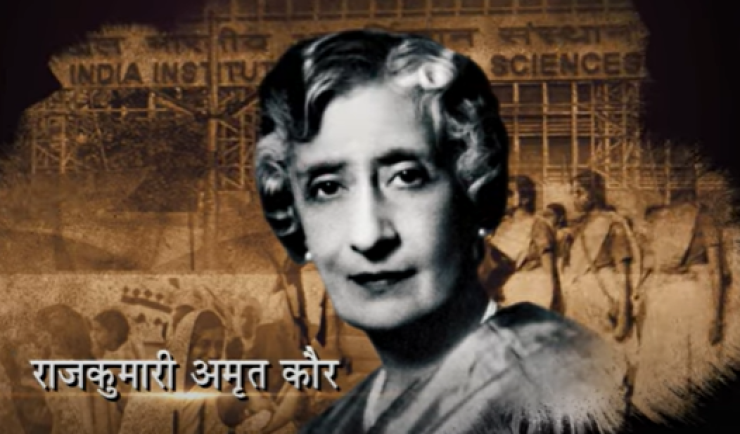 Rajkumari Amrit Kaur, a devoted follower of Christ, earned recognition from Time magazine as one of the two most influential figures of the 20th century in India, alongside the formidable former Prime Minister of India, Mrs. Indira Gandhi. She was a dedicated stalwart, committing her life to the noble cause of nation-building. In acknowledgment of her profound involvement in God's holistic mission, the Caleb Institute named its Auditorium Rajkumari Amrit Kaur to commemorate her enduring legacy.
Born on 2 February 1889 in Lucknow into Punjab's Kapurthala Royal family, Rajkumari was the only daughter among seven children who grew up with her siblings, imbibing the teachings of Jesus Christ. Her father, Raja Harnam Singh, had embraced Christianity as a young boy, choosing to abstain from the line of succession to the throne. He married Priscilla, the daughter of Rev. Golaknath and Selina Tikko, a great grand aunt of Mrs. Neena Williams, the founder of Mount Carmel School in Delhi.
Following an initial period of home-schooling, Rajkumari pursued her education at Sherborne School in Dorsetshire, England, and graduated with distinction from the University of Oxford, boasting an impressive academic and extra-curricular record.
Upon returning to India at the age of 20, Rajkumari devoted a significant portion of her energy to social causes, particularly those affecting women, such as the eradication of purdah, child marriage, and the Devadasi tradition. By 1927, she co-founded the All-India Woman's Conference, serving as its secretary in 1930 and president in 1933. Indeed, addressing issues of gender justice was her fervent passion, aligning with the biblical teaching, "Religion that God our Father accepts as pure and faultless is this: to look after orphans and widows in their distress and to keep oneself from being polluted by the world" (James 1:27). In 1934, she joined Gandhi's Sevagram Ashram, where she served as his secretary for sixteen years.
Rajkumari's political inclinations, nurtured during her time with her father, led her to actively participate in the Indian freedom struggle by the 1930s. Her involvement in various movements against British rule resulted in multiple imprisonments. During the Salt Satyagraha, she faced arrest for her role in Bombay. In 1937, she found herself incarcerated again, this time on charges of sedition. Rajkumari returned to prison in 1942 for her participation in the Quit India movement, enduring a brutal lathi charge that took a toll on her health. Eventually released, she was placed under house arrest in Shimla, steadfastly working for freedom from colonial rule.
Elected to the Constituent Assembly from the Central Provinces and Berar province on a Congress ticket, Rajkumari played a pivotal role in shaping numerous constitutional provisions. In 1947, she became independent India's first Health Minister, serving in Prime Minister Jawaharlal Nehru's interim cabinet for ten years and becoming the first woman member of the post-independence cabinet. On 18 February 1956, as the Minister of Health, Rajkumari introduced a new bill in the Lok Sabha, speaking from her heart about her dream for postgraduate education in India. The Scriptures describe political leaders as servants of God, urging constant prayer as they engage in the political process (Jeremiah 29:7, Romans 13:7, 1 Timothy 2:1-3, Titus 3:1, 1 Peter 2:17). The Christian community needs to reflect on why they don't actively engage in national politics.
In 1950, she became the first female and first Asian president of the World Health Assembly, leading India's delegation to the World Health Organization multiple times between 1948 and 1953. Additionally, she was a founder-member and Chairperson of the Indian Red Cross Society. In 1957, the League of Red Cross Societies honoured her with the Court Bernadotte Gold Medal for her long and dedicated service. She later became the vice president of the International Red Cross Society and held the position of President at the Indian Leprosy Association and the Tuberculosis Association. Advocating for free education for all, especially women's education, Rajkumari was one of the founding members of Delhi's Lady Irwin College. Her commitment to children's welfare led to the establishment of the Indian Council of Child Welfare, where she served as its first President from 1948 to 1958. In 1956, Princeton University conferred upon her an honorary Doctor of Law degree.
The written word holds immense power, forming a legacy that others can learn from and carry forward. Rajkumari wrote extensively on women and issues concerning them, with notable works such as "Woman in India" (1935), "Challenge to Women" (1946), "To Women" (1948), and more. Her engagement with Gandhian principles, particularly concerning women, is evident in her work "Gandhi and Women." Rajkumari passed away on 6 February 1964 at the age of 75 in New Delhi.
The church is guilty of inadequately addressing gender justice issues. Recognizing the work of the Holy Spirit, we understand that children, youth, and women are at the centre of missional engagement within the body of Christ. God's generosity and love are evident when Joel's prophecy is fulfilled, and the Holy Spirit is poured out on all flesh - sons and daughters, young and old, male, and female servants - ushering in a new age of the Spirit (cf. Acts 2:1-18). The gifts of the Holy Spirit are bestowed without gender discrimination (1 Cor.12:7), determining each member's ministry, whether in pastoral leadership or nation-building. Every member in the body of Christ is a co-equal partner in God's ministry and mission. The church must engage with society to empower the powerless, making them productive members of society; Rajkumari's legacy continues to inspire addressing issues of gender justice.
Rev. Dr. Richard Howell is the Principal of Caleb Institute, Haryana, India. He is the former General Secretary of Evangelical Fellowship of India and Asia Evangelical Alliance. He is also the founding member of the Global Christian Forum.