The 69th EFI Convention and EFI's NCUT North Zone Urban Transformation Conference was held from 4th to 7th September 2023 at the Don Bosco Technical Institute in Delhi. The gathering brought together 200 plus urban pastors, heads of Christian institutions, and leaders from across India. The event was based on the theme: "Seeking the Peace and Prosperity of the City-Nation," (Jeremiah 29:7). 
The convention was marked by many activities and discussions which included plenary sessions, Bible studies, urban contextual presentations, breakout sessions, case studies and critical ministry presentations. But the highlight was the coming together of prominent urban thinkers and practitioners to share their insights and experiences. 
Empowering Urban Leaders
Rev. Vijayesh Lal, the General Secretary of EFI, set the tone for the conference by welcoming resource persons and participants and explaining the thrust and the focus of the convention. Rev. Dr. Richard Howell, former GS of EFI and current Principal of Caleb Institute, delivered the inaugural message, emphasising the importance of urban ministry. Rev. Dr. Atul Aghamkar, Director of EFI's National Centre for Urban Transformation, challenged attendees to actively seek peace and prosperity for their cities. 
Exploring Urban Themes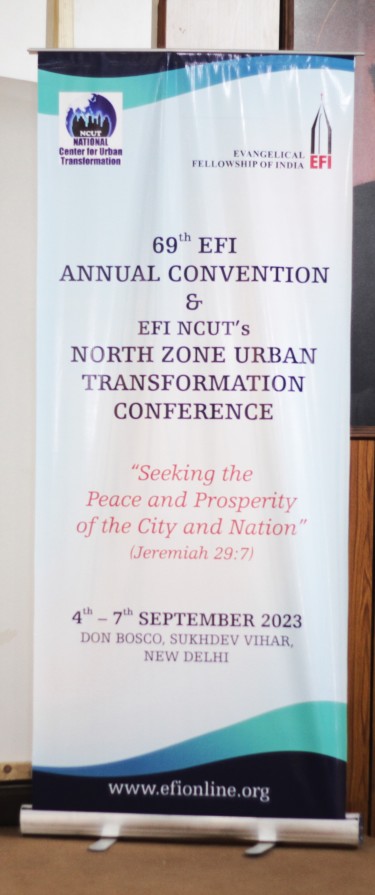 Two engaging Biblical reflections were presented by Dr. Prabhu Singh, Principal of South Asia Institute of Advanced Christian Studies, Bangalore. During his reflections on "The Church at Antioch: Analysis of an Urban Christ-ward Movement" and "The Textile Entrepreneur Who Transformed Europe" he skilfully unveiled insightful connections between biblical narratives and the urban context of India. 
A Vision for Urban Ministry
The conference covered a wide range of topics related to urban ministry and explored their biblical, practical, and contextual perspectives. Speakers like Dr. Paul Mathews, Rev. Susanta Patra, and Pastor R. L. Gupta provided inspiration and innovative ideas for urban church life and community outreach. 
EFI's Strategic Initiatives
During the Annual General Meeting of EFI, Rev. Vijayesh Lal, the GS, spoke about the strategic initiatives by EFI including the relief work in Manipur and Chhattisgarh and EFI Children at Risk which is combating human trafficking and supporting at-risk children. He also announced the upcoming All India Congress on Church in Mission (AICOCIM) in March 2024, a significant decennial event that aims to gather top leaders from the Evangelical Christian community to address pressing issues facing the Church and Mission. 
Releasing a Resource
During the conference, a book entitled "Rethinking Urban Mission and Ministry in India," edited by Dr. Atul Aghamkar and Dr. James Patole was also released. The book was dedicated by Dr. Prabhu Singh promises to be an essential tool for those engaged in urban ministry in India. 
Breakout Sessions and Ministry Presentations
There were plenty of opportunities for attendees to dive deeper into specific areas of urban ministry through carefully planned breakout sessions. These sessions were focused on equipping urban church leaders, on facilitating ministry to urban migrants, reaching urban neighbours, urban church outreach, freedom, and justice initiatives, and praying for the city. 
Various departments and commissions of EFI's showcased their ministries during specific presentations, providing a comprehensive view of the organisation's work. A highlight was the recognition of the state of Manipur, with special prayers offered for the peace and restoration of normalcy in the region. 
Inspiring Testimonies
Participants shared their experiences and new-found inspiration. Rev. Girish Tamta expressed his desire to initiate ministries in several cities in Uttarakhand, while participants from Nagaland discussed plans to reach out to non-Nagas in their cities. Layperson Mrs. Kalpana Sirwaiya emphasised the conference's eye-opening impact, and attendees like Joel Damle and John Alexander spoke of the conference's role in broadening their visions and fostering collaboration within the city. 
A Call to Action
The conference concluded with a resounding call to action from participants like Rev. Robert Clark, Rev. Hanok Masih, Rev. John Kallimel, and Rev. Bobby Vaiphei, all of whom expressed their commitment to applying the conference insights to their urban ministries and communities. 
A Grateful Farewell
Rev. Vijayesh Lal extended heartfelt thanks to all participants, and Dr. Susanta Patra led a concluding prayer, marking the end of a transformative event. 
The 69th EFI Convention and North Zone Urban Transformation Conference will undoubtedly leave a lasting impact on the landscape of urban ministry in India, equipping leaders to bring peace and prosperity to their cities. The event's success reflects the dedication of EFI and its leaders in fostering a vibrant urban Christian community dedicated to making a difference in the cities of India. With the upcoming AICOCIM in 2024, the momentum for urban ministry continues to grow, promising a brighter future for the Church and Mission in India's cities.