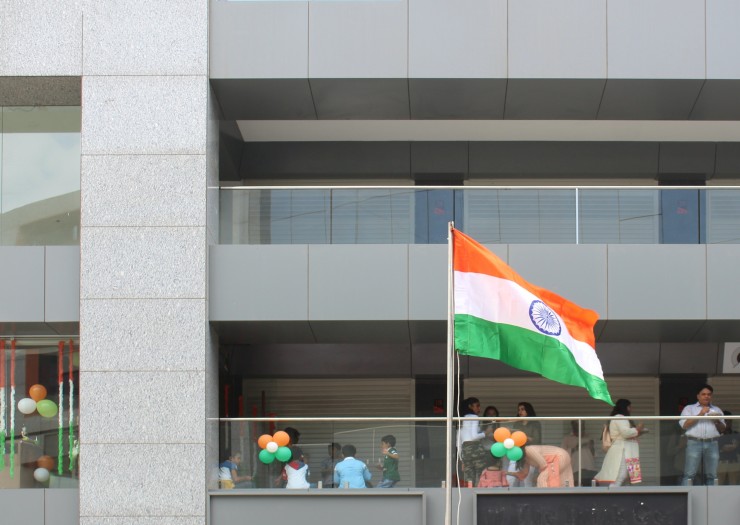 India marked its 75th anniversary of independence today with citizens displaying the national flag at their homes and businesses for three days nationwide as part of a government drive to kindle the sense of patriotism in every heart.
In a 75-minute-speech to the nation from the Red Fort, New Delhi, Prime Minister Narendra Modi emphasised that India must become a developed country before it celebrates a century of freedom from colonial Britain.
"We must turn India into a developed country in the next 25 years, in our lifetime," he said. "It's a big resolution, and we should work towards it with all our might."
India has seen significant changes in 75 years. It is the sixth-largest economy in the world, and is predicted to grow at the highest rate among developed nations in the current fiscal year ending in March 2023, exceeding seven percent. It is one of the top nations in the world for information technology, pharmaceuticals, space research and civil nuclear energy because of its highly qualified workforce.
However, how far has India progressed in terms of its religious freedom?
Christians and other religious minorities will also participate in the 75th Independence day celebrations while acknowledging that they experience prejudice that is "unprecedentedly grave," said an Open Doors spokesperson who claims the gravity of the situation is at its peak.
"Every day we receive new prayer requests from friends, for another Christian family attacked, or a pastor arrested on false accusation," according to the spokesperson, whose identity has been withheld for security reasons.
Christians and other religious minorities have historically faced some animosity, but as Hindutva's influence grows, views are tightening and persecution is getting harsher.
"It is no longer small extremist groups attacking converts, now it is often entire communities attacking and expelling them, beating them or handing them over to the police on false accusations," said the spokesperson.
"Extremists are propagating the hatred through social media, instigating mass protests, and rallies, rousing hatred and spreading misinformation. These can lead in turn to mob violence."
Most villages and small cities frequently experience mob violence. A small group of radicals assembles a group from the neighbourhood and brainwashes them about how Christians are defiling society and seducing people into conversion. Then they invade the service, viciously assaulting the attendees, and even bring a police officer to take the leaders into custody, the spokesperson explained.
Research conducted by the Open Doors World Watch List shows that reports of such violence have been drastically increasing. Incitement and violence against religious minorities were mentioned in a recent joint submission to the Human Rights Council's Universal Periodic Review of India.
Eleven states have so far approved anti-conversion legislation, despite the provision of religious freedom in the constitution to profess, practice, and propagate religion. If someone is determined to have converted from Hinduism under force, they might face prison sentences of up to ten years. In reality, Christians and other religious minorities are frequently the targets of abuse and harassment under these regulations.
"Now is the time for governments and citizens to speak up. There is no reason why people should have to hide who they are and what they believe," the spokesperson concluded.
Dr. David Landrum, Director of Advocacy and Public Affairs at Open Doors in the UK and Ireland, asserted that religious minorities in India are perched precariously.
If the present tide of violent intolerance continues unchecked, their legitimacy, and in certain circumstances, their very presence, is jeopardised, said Dr. Landrum.
"Mahatma Gandhi's dream of a society where '[All] are born equal, meaning that we have a right to equal opportunity,' is in danger of dying for good," he added.
On the 75th Independence Day, let us unite our hearts to pray for the true religious freedom as provided by the Indian constitution for all Christians, churches, families and other minorities in the country.