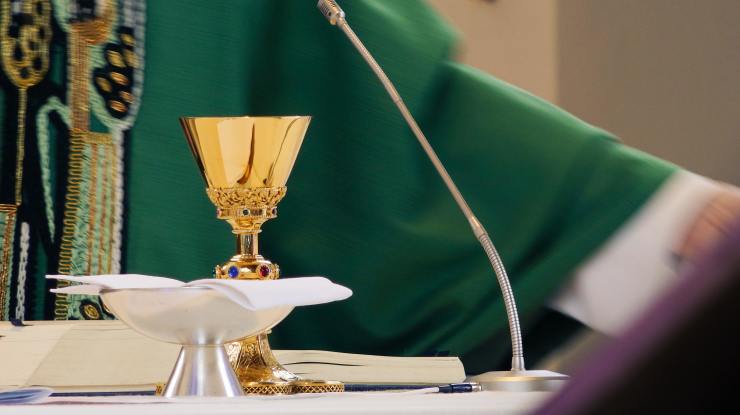 The apostolic administrator's approach to resolve a liturgical disagreement in one of the archdioceses of Syro-Malabar Church has drawn criticism from some of the church's bishops in Kerala.
In a confidential letter to Cardinal George Alencherry, leader of the Oriental Church, nine bishops of the Ernakulam-Angamaly archdiocese have urged him to take all necessary steps to find a "pastoral solution" for the issue.
Archbishop Andrews Thazhath, the apostolic administrator of the Ernakulam-Angamaly archdiocese, was accused of sabotaging a peace process to resolve the almost five-decade-old liturgical conflict amicably.
The prelate had made an unsuccessful attempt to barge inside St. Mary's Cathedral Basilica on November 27 and conduct Mass in the uniformed manner mandated by the synod of 1999, which required the priests to face the altar during the Eucharistic liturgy.
This infuriated the priests and laypeople in the archdiocese who reject the standard Mass and prefer to continue celebrating Mass in the manner that has been customary for centuries, with the priest facing the congregation at all times.
The basilica was shut down and kept under police surveillance as a result of Archbishop Thazhath's actions.
The priests in the archdiocese had notified Archbishop Thazhath of the critical law and asked not to go by the Basilica Vicar and other curia members. They regret that his visit was "unfortunate," and it "worsened the situation."
Since August of last year, when the Synod of the Oriental Church ordered its 35 dioceses to adopt the standard Mass, the priests and laypeople in the archdiocese have been on the warpath.
The Ernakulam-Angamaly archdiocese held firm and asked that their traditional mass be given a "liturgy variation status," but the other dioceses eventually relented after some initial reluctance.
In order to resolve the argument, the Vatican selected Archbishop Thazhath on July 30.
"I have no authority and option other than to implement" the uniform Mass, Archbishop Thazhath said in an explanation on December 4.
He pleaded with the priests to abstain from demonstrations as it would be viewed as a protest against the Holy Father and the rejection of his decisions.