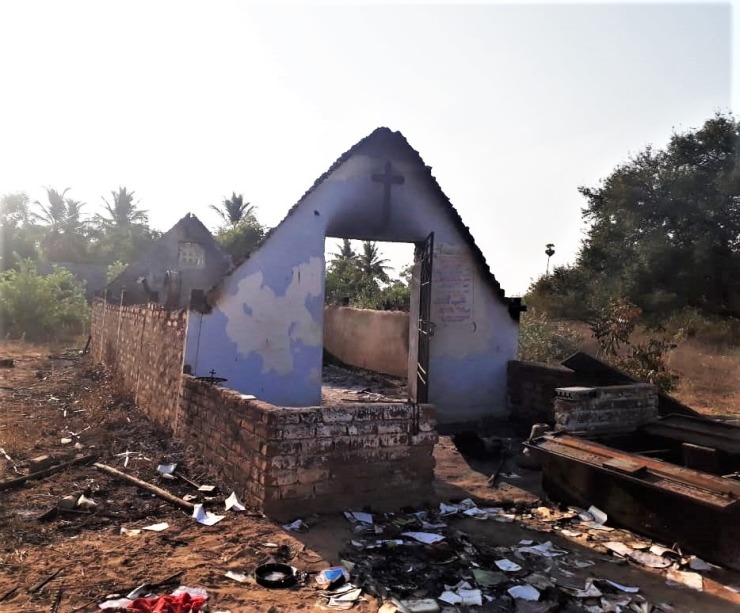 Over 60 cases of persecution of Christians have been recorded in southern India in the last nine months, nearly a double number compared to the first nine months of 2017.
Alliance Defending Freedom (ADF)-India reported that Christians in southern states of Karnataka, Telangana, Andhra Pradesh, Tamil Nadu and Kerala are living in fear as the level of violence against them continues to rise.
In the first nine months of 2017, 36 cases of persecution of Christians were recorded. This year, it is over 60, according to religious freedom advocacy group.
"In Tamil Nadu, (Rashtriya Swayamsevak Sangh) RSS activists are provoking the Hindus in their speeches at public gatherings to cause communal tension," Rev. Sagaya Raj, deputy secretary of the Tamil Nadu Bishops Council told Morning Star News.
"The current situation is alarming – our state was a peace-loving state, and we lived in harmony. The recent attacks on Christian community are very disturbing," he added.
In one case, a mob of Hindus celebrating the birthday of the Hindu elephant god Ganesha in a procession in Veppur village, Vellore District, on Sept. 13 attacked an elderly Christian woman.
The mob rebuked her for using the road, Christian resident Esther Moses told MSN.
"One was yelling, 'You converted to Christianity, and you are an 'untouchable' – how can you use the road when our Vinayagar [Ganesha in Tamil] is passing from here? You are impure, and now you made the road impure by walking on it,'" said Moses.
"They became very aggressive, so that they started beating her," he added.
Other Christians who rushed to rescue her and were also attacked, she said. They hurled stones at them, injuring about 13 Christians, including a boy.
They were admitted to a government hospital that night and later transferred to Christian Medical College hospital in Vellore, Pr Emmanuel Paul of the Tamil Nadu Synod of Pentecostal Churches told MSN.
"The boy who suffered the nose injury was gasping for breath, his nasal bone was fractured," said Paul.
"And his dad received blows on his head and was bleeding heavily," he added.
Church leaders submitted a written complaint, and police registered a First Information Report (FIR).
In Telangana state, on Sept. 10, a pastor visiting the site of his house under construction in Tadvai Mandal, Kamareddy District, was attacked by Hindu extremists.
"Four men barged inside and started beating me," said the 49-year-old pastor, whose name is withheld for security reasons.
"They said, 'How dare you construct a church here?' and abused me in extreme vulgar language."
They dragged him to the village council office, he said. Not finding the council president, they telephoned him and took instructions.
"They punched me in my stomach and back at the council's office, and then they brought me back to the construction site," he told MSN.
The four assailants, identified as Mudaam Narsimhulu, Srinivas Reddy, Raghava Reddy and Padaganti Rajeshwar, forced the pastor to demolish the walls of his house, he said.
Later the assailants dragged him to the Tadvai police station. However, police saw that the pastor had proper documents showing that he had secured permission and that the construction was legal.
Police booked the four assailants for attempt to murder, public nuisance, voluntarily causing hurt, causing hurt with dangerous weapons, mischief causing loss or damage of over 50 rupees and promoting enmity between classes under the Indian Penal Code.
Within 10 days, the attackers were released on bail, he said.
"I am still living in fear and have not gone to Tadvai village since the day of attack," said the pastor.
"It is a spacious plot of 500 square yards. Our desire was to establish a house church there so a pastor can reside with his family, and the believers from Tadvai and neighboring villages can gather for worship and prayers," he added.