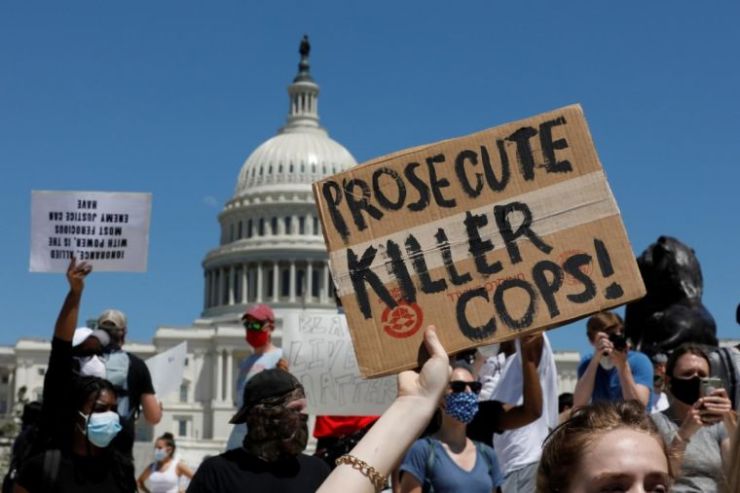 Church leaders have condemned racism as riots continue to rage across the US following the death of George Floyd, an unarmed black man who died last week in Minnesota while being detained by a white police officer.
In a joint statement, the Archbishop of Canterbury, Justin Welby, and the Archbishop of York, John Sentamu, said that everyone needed to play their part in eradicating racism.
"Recent events in the United States of America have once again drawn public attention to the ongoing evil of white supremacy," they said.
"Systemic racism continues to cause incalculable harm across the world. Our hearts weep for the suffering caused – for those who have lost their lives, those who have experienced persecution, those who live in fear.
"God's justice and love for all creation demands that this evil is properly confronted and tackled.
"Let us be clear: racism is an affront to God. It is born out of ignorance, and must be eradicated. We all bear the responsibility and must play our part to eliminate this scourge on humanity.
"As Dr Martin Luther King Jr said, 'In a real sense, we are all caught in an inescapable network of mutuality, tied in a single garment of destiny. Therefore, injustice anywhere is a threat to justice everywhere.'
"We pray that God's abounding wisdom, compassion and love will guide leaders across the world to forge a better society."
The World Evangelical Alliance (WEA) said Floyd's death was a "symptom of the racial injustice that continues to exist" in the US.
WEA Secretary General Bishop Efraim Tendero said Christians needed to be at the forefront of reconciliation, peacebuilding and advocating for justice.
"As a global family of Christian believers, we feel the pain of a nation in turmoil strained with broken relationships that have suffered from decades, indeed centuries of injustice between people of various ethnic backgrounds," he said.
"We also wish to express our concern about the evident violence that is overshadowing those whose intent is to register a peaceful protest.
"This violence only adds to the pain Americans are suffering amidst the ongoing COVID-19 pandemic.
"Today as a world body, understanding the complexity of this social unrest, we stand in prayerful solidarity, asking the God of creation and the Lord of our salvation to restore peace, to establish His justice and to bring about a lasting healing and reconciliation within the United States."
The National Association of Evangelicals in the US said the wrongful deaths of Floyd and other black people "illustrate severe racial injustices in the United States" and "the recurring trauma experienced by African Americans".
"We condemn racism and the violent abuse of power, call for justice for victims and their families, and exhort churches to combat attitudes and systems that perpetuate racism," it said.
"We are grateful for law enforcement officers who honorably serve and protect our communities, and urge our members to uphold them in prayer."