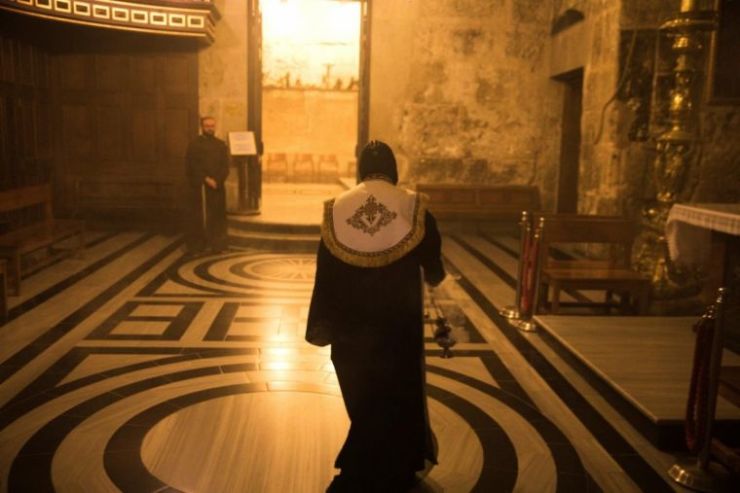 Despite an announcement saying that the Church of the Holy Sepulchre would open again on Sunday, the historic site in Jerusalem remains closed.
The landmark church, traditionally believed by Christians to be built on the site of Jesus' crucifixion, was closed in March as the coronavirus pandemic spread to the Holy Land.
The closure of the church followed the imposition of measures to halt the spread of Covid-19 and came just before Easter, when tens of thousands of pilgrims from around the world normally visit.
The three denominations that share custody of the church - the Greek Orthodox, Armenian and Roman Catholic Churches - had announced in a joint statement on Saturday that the church would open its doors again on Sunday "to the faithful, for visits and prayers".
The announcement stated that only 50 people at a time would be allowed into the building if they had "no fever or symptoms of infection" and were "wearing suitable face coverings".
But the Agence France Presse (AFP) news agency reports that worshippers who arrived at the site on Sunday were denied entry.
According to AFP, religious officials have not given a new date for the re-opening of the church.
There have been over 16,700 cases of coronavirus in Israel, with 279 deaths. In the West Bank, there have been 368 cases and two deaths.
The Friends of the Holy Land (FHL) charity has been fundraising to support locals who rely on tourism for their income and who are facing economic hardship because of the lockdown.
FHL's Executive Director Brendan Metcalfe said: "While nobody is guaranteed protection from the virus, many of the people of the Holy Land are especially vulnerable and have absolutely no line of defence against this deadly disease – with no savings to fall back on, nothing."