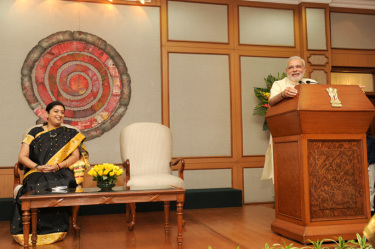 Christian minority in the country "are feeling threatened" by the government's action directing schools to observe 'Good governance day' on Christmas although it later backtracked after it caused an outrage from critics and the opposition parties in the parliament.
Mr. Alwan Masih, the general secretary of the Church of North India told Christian Today that "Christians are feeling threatened" by the whole episode and it has caused "fear" among them; and has urged the Prime Minister to reign on such issues so that it does not repeat in the future.
"With these kinds of things, the minorities will feel threatened. And we, certainly Christians as a minority, we are feeling threatened by this kind of tactics and this kind of action taken by the ruling party," the general secretary said.
"We should be treated as equal citizens. And we should have the liberty of celebrating our Christmas without any intrusion and disturbance from anyone. But this is not happening. Probably, when the Prime Minister (Shri Narendra Modi) came to power he had given a slogan 'Sabka Saath, Sabka Vikas' meaning he assured that he will take everyone along. But by doing this, by disrupting other religious community's function, these kinds of things have happened," he said.
"But Christmas is a declared holiday in most countries around the world - where Christians celebrate Christmas. They do not celebrate just for themselves but for the whole of humanity. But with this circular where the children have been asked to competed on essay competition online and initially asking schools to remain open and do such an activities and send reports after the activities—it means they are trying to ignore the religious needs of Christian community; which certainly does not move in along with the slogan.
Earlier, the Navodaya Vidyalaya Samiti on the direction of HRD ministry had issued a circular on December 12 asking all schools to celebrate the birthday of former Prime Minister Atal Bihari Vajpayee and Hindu Mahasabha leader Madan Mohan Malaviya, the forerunner of the ruling Bharatiya Janata Party on December 25 as 'Good Governance Day'. The circular had asked schools to carry out essay writing, quiz and debating competitions on good governance on the day.
The Indian Express newspaper confirmed that a circular dated December 12 was also sent to vice-chancellors of all Central Universities asking them to mark the day by organising a seminar on "use of technology and innovations in promoting good governance" as well as an "oratory".
After receiving criticisms from all corners including opposition parties in the parliament, HRD minister Smriti Irani has clarified that the circular was issued asking the schools to conduct an essay competition but it is voluntary and online.
"There is an essay competition planned, but it is voluntary and online," she said.
Parliamentary Affairs Minister Venkaiah Naidu informed Parliament Wednesday about the revised circular stating the circular was by "no means a disrespect on Christmas", schools were instructed to celebrate it "in such a manner that Christmas holidays are not disturbed".
Although the government has clarified it is still planning to hold an online essay competition for certain schools and the whole controversy has made Christians feeling threatened and being tested of their patience, according to Mr. Masih.
Although the clarification is given by the government, Mr. Masih said, "We are feeling threatened because it is like testing... how much people will react and how much they will go on bearing without much protest," he said.
"It looks like this is testing for something bigger they might do to the minorities. That is the fear in the minds of the minorities," he added.
"We do believe the Prime Minister will have time and will have the conviction to come up and say, 'This is wrong, and he should ensure that ministries do not issue such kind of circulars which create fear,'" he continued.
"I do not think that there is a larger conspiracy but such things create fear (among the minority Christian community) and it is some sort of threatening," he concluded.