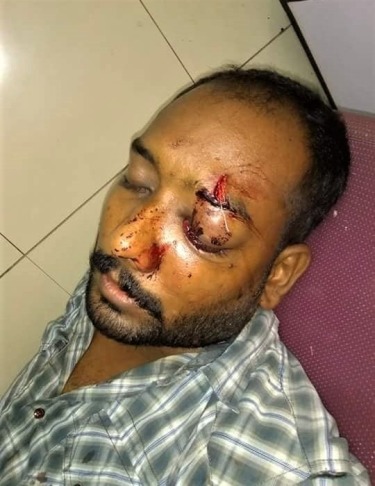 A young Christian man in Karachi, Pakistan lost sight in one eye when armed Muslim neighbors attacked his family on Aug. 18.
Vikram John, 25, lost sight in his left eye after Muslim neighbors beat him and other family members, his father Alvin John told Morning Star News.
On the day of incident, John was involved in a minor argument with Muslim neighbors who had teased his 18-year-old sister.
"After exchanging a few hot words with the Muslim youths led by a political activist named Ihsan, Vikram came inside the house," said Alvin John.
"Moments later, bricks and stones came smashing through our window glass and hitting our gate. The attackers threatened us, saying to move out of the neighborhood if we wanted to stay alive as they hurled curses and abuses on us," he added.
He said that the attackers beat him and his two sons as his wife and daughter screamed in panic.
John, a chemical engineering student, along with his family, had moved into Karachi's Mehmoodabad No-II neighborhood from Sahiwal District in Punjab Province 10 months ago. His family, who belong to an Assemblies of God church, is the only Christian family on their street of 15 to 20 Muslim families. The neighbors tried various antics to force them out.
The family had requested the neighbors' families to stop the hooliganism.
"For months we had been requesting the boys' families to stop the hooliganism, but it seems that they had found this to be an effective tool to intimidate us, so the harassment continued unabated," said Alvin John.
He also said that his family wanted to relocate to some other area or even move to Lahore and start afresh. But because of financial situation they couldn't, he added.
The Muslim leading the assailants, Ihsan, was affiliated with the Muttahida Qaumi Movement (MQM), a Karachi-based political party infamous for supporting gangs of assassins and extortionists in the financial hub of the country.
Police arrived and took John to Jinnah Hospital, where they learned that he had lost sight in his left eye, besides serious injuries to other parts of his body, said Alvin John.
Alvin John said he sought help from the ruling Pakistan People's Party's (PPP) to arrest the attackers.
Mehmoodabad Police Inspector Muhammad Sarwar told MSN that police were making efforts to arrest the attackers.
"No one, including MQM or any other political or religious group, can go scot-free after committing such crimes," he said.
PPP Sen. Saeed Ghani told MSN by phone from Karachi that he had been informed about the incident by PPP Christian lawmaker Anthony Naveed.
"My brother Farhan Ghani, who is the chairman of the local municipality in Mehmoodabad, is already extending full cooperation to Naveed in helping the Christian family seek justice," said Ghani.
"It is against Islam's preaching to target people belonging to minority communities, and PPP has always condemned religious extremism and persecution," he added.