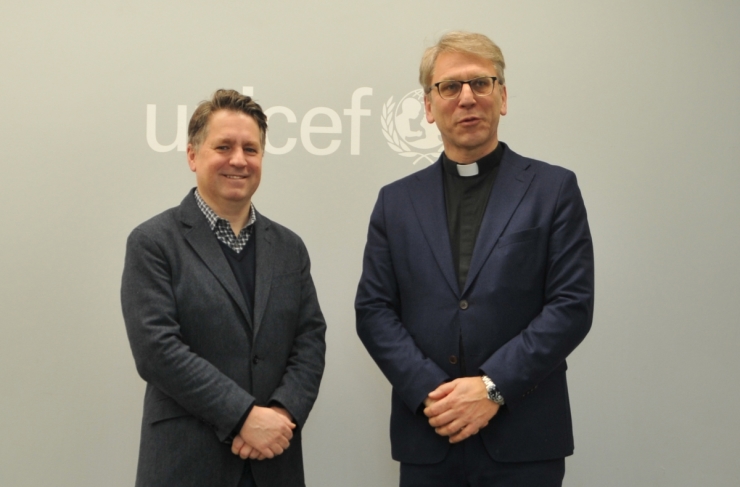 The World Council of Churches (WCC) and the United Nations Children's Fund (UNICEF) on Jan. 19 have promised to deepen their existing collaboration, assuring to explore new joint projects to protect and provide for children.
WCC general secretary Rev. Dr Olav Fykse Tveit and UNICEF deputy executive director Justin Forsyth signed a "Memorandum of Collaboration 2018-2021" that authorizes a partnership between the two bodies corresponding to the newly approved UNICEF Strategic Plan.
"Children need protection everywhere. We are grateful for the continuing cooperation and we will explore new possibilities of joint projects," said Tveit.
The global collaboration between the WCC and UNICEF started in Sept. 2015. Through an initiative, "Churches' Commitments to Children", the two worked together in a comprehensive participatory process, in which the rights of children, belonging to WCC member churches, were monitored and promoted.
There was strong response from member churches in all continents to this program, said Tveit.
"They have something to offer. We share the faith that God came to us as a child. That changes our perspectives on all human beings," he added.
Forsyth echoed Tveit's point of view about the strengthening of their partnership.
"Children are the most vulnerable in any of the tragedies we deal with: forced migration, war, famine, and more," said Forsyth.
"Collectively we have an obligation to protect and provide for children. Christians around the world are committed to the protection and care of children. This joint effort by the WCC and UNICEF would lead to action that will save the lives of millions of vulnerable children globally," Forsyth added.