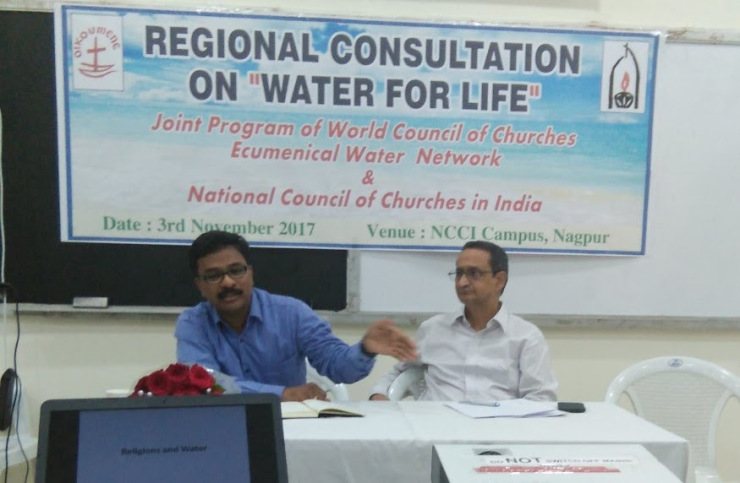 Ecumenical church bodies in India have jointly organized a one-day conference on water crisis, highlighting the unequal availability of natural resources. The conference, themed 'Water for life', held early this month in Nagpur, Maharashtra.
The joint program of the Vidarbha Centre for Labour Concerns (VCLC), National Council of Churches in India (NCCI), Ecumenical Water Network (EWN), and World Council of Churches (WCC), was attended by 50 participants from the Church of North India, Mar Thoma Church, and the Orthodox Seminary. There were also participants from different faith traditions, including Butibori – MIDC and Totladoh who have been affected by developmental activities in the region.
The main focus of the conference was to promote the preservation, responsible management and the equitable distribution of water for all, based on the understanding that water is a gift of God and a fundamental human right.
Dinesh Suna, one of the speakers in the conference said "water is to be preserved and shared for the benefit of all creatures and the wider creation. It is therefore right to speak out and to act when the life-giving water is pervasively and systematically under threat."
Water is being commoditized and therefore this natural resource is made available unequally.
Rev. Dr Roger Gaikwad, another speaker, reiterated the concerns about water in the drought-prone regions of Maharashtra.
The tragedy of repeated droughts leading many of the farmers to commit suicide, said Gaikwad.
Privatization of water or commercializing water bodies, forcefully evicts water-livelihood-based communities from their homelands without giving them suitable alternatives and proper compensations, he added.